Turbo models only 1978 to 1985 - Hard to find good ones in undamaged condition. NOTE FACTORY SEAL INTACT! Video install and adjustment instructions included.
This is a VERY GOOD used ALDA assembly removed from a good running 300SD engine. This device sits on top of the injection pump and controls fuel flow rates to your injectors. This unit can be damaged if improperly adjusted and your diesel will not perform as it should. Poor acceleration and excess fuel consumption are two of the more common problems related to this unit. What you see is what you will get. It will ship with the parts bagged separately and carefully packed and sealed in plastic bags to prevent damage to the gasket which is attached to the mounting plate. Note the spring and attachment clip are included as well as the four mounting plate screws. The video below will show you how to remove the unit from the injection pump.
300D 300CD 300TD 300SD 617 Turbo Diesel ALDA Assembly ( Used )
$225.00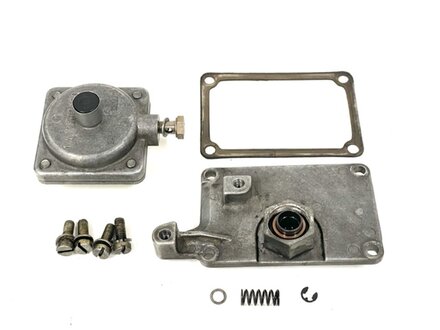 Product Details
This unit is undamaged and comes with the mounting plate, hardware, and a used gasket as shown. BONUS on-demand instructional videos are included at no extra cost. Adjustment procedures are covered as well as a detailed video explaining what the ALDA does and how to troubleshoot and replace the turbo over-boost circuit. The wrenches you will need to remove the ALDA are the same as used to remove the oil cooler hoses. See related products below. 
Related Products:
---