Fits 5 cylinder Turbo engines 300DT 300CDT 300TDT 300SD
FITS THE FOLLOWING: 116 123 and 126 chassis, from 1978 to 1985 with 617 5 cylinder TURBO diesel engines ONLY.This is a super important maintenance item for your diesel engine. Depending on maintenance and oil change schedules this chain should be replaced in the 150,000 mile to 200,000 range.
617 Turbo Diesel Timing Chain Replacement Kit
$189.00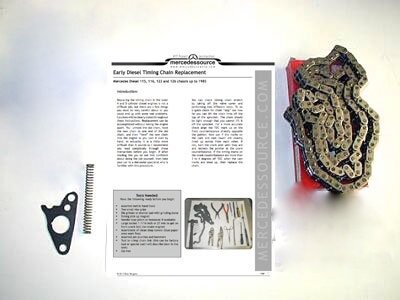 Product Details
If your timing chain lets go while driving, it is not a pretty sight. It will usually destroy the engine. If the chain is stretched more than 3 or 4 degrees your cam timing and injection pump timing with be retarded. This will lead to rough starts, excessive smoke, and poor power. If you do not have any records of a replacement, do it now!
As well as the chain we include a new turbo tensioner spring which tends to wear out due to vibration. A tensioner gasket and custom fit chain master link are also included. This DIY kit comes with all these parts as well as step by step PDF instructions on how to install the timing chain yourself without having to take the engine apart, or having to use any special tools to get the job done. A detailed explanation on how to reuse your current turbo tensioner is also included. ( Note: in most cases it can be reused unless for some reason it has been severely damaged). After installing this kit you will be pleased with the new performance as well as sleep better at night. DO NOT PUT THIS OFF!
Tensioner and upper guide rail can be purchased separately. See related products below:
_______________________________________________________________________________
How to view the PDF digital instructions:
Once you complete the purchase of this product you will be able to download the digital instructions immediately when you are logged in and on your personal account page (click on My Account). Any PDFs will show up under My PDF Manuals. You will be allowed three downloads, so please save the file on your machine for backup.
_______________________________________________________________________________
For NON Turbo diesel models Look below
When replacing your valve cover you may need wave washers. Listed below.
Related Products:
---