300TD Wagon, 6.9, 560SEL, 300TE, 190E 16V, other Euro Models with Hydropneumatic Suspension
If you have any Mercedes model with hydraulic self leveling suspension from the early 70's up to the early 1990's this is the correct fluid to use. High quality Meyle or Febi Bilstein product. Any other type of fluid can damage the seals and score your pump. Believe it or not, I have seen transmission fluid, jack fluid, and even engine oil in these systems.
All Models Self Leveling Suspension SLS Proper Hydraulic Fluid - 1 Liter
$14.95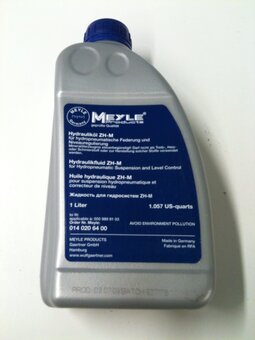 Product Details
If your fluid is old and dark it is time to flush it out. I recommend you order 4 liters if you are going to do a complete fluid change on a wagon or other model with only rear SLS. If you have a 6.9 or other model with 4 wheel SLS then order 7 to 8 liters. PLEASE NOTE: This can only be shipped UPS ground. It can not be shipped via postal or internationally. 
At the same time you should change the filter located in the top of the fluid tank. Look below to order.
While you are at it check the condition of your braided low pressure return hose (this goes from the tank to the pump. This hose is prone to weeping or leaking right through the cover. Best to change it if it looks old. Look below to order.
Applies to all 300TD 300TE wagons, Euro models with self leveling suspension, 6.9, 190E 16V, and 560SEC and SEL with hydraulic system installed. In fact all years and models even up into the late 90's
Related Products:
---