Now with paint masking dam INCLUDED! One of the best cosmetic improvements you can make on your old Benz! w/ video Instructions
Can be successfully applied to all Mercedes Alloy (non chrome) Silver Wheels from 1970 to 1995. 108, 109, 107, 114, 115, 116, 123, 201, 126 and 124 chassis. Most of us have to admit that stained and peeling paint on Mercedes alloy wheels is ugly on any model. Your eye tends to go right to the wheels. Even if the rest of the car is nice, bad looking wheels certainly can make your car look dated.
Alloy Wheel Paint Restoration Kit - UPS GROUND ONLY!
$56.50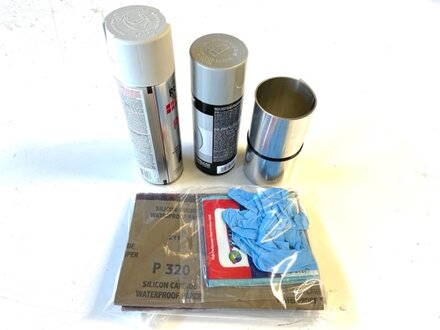 Product Details
Painting them is not difficult. With the right paint and a few tips for proper application, you could have them looking like new in a couple hours or less. I have painted a few hundred of these over the years and have found a good compromise between cost and finished results. I can not argue that the proper way to paint a wheel would be to have the old paint striped, the aluminum properly etched, epoxy primer/sealer applied, correct silver base coat sprayed under controlled conditions and finally top coated with high quality urethane clear coat. The only problem with this it is very time consuming, very expensive, and bad for your health if you do not have the proper equipment to deal with 2 part paints. Some of the high end wheel paints that require a clear coat can actually start peeling over time if not applied perfectly.
I normally do not like nor use spray can paint products. Most have poor finish, adhesion and durability properties. There are some exceptions, which I have discovered after trying dozens of different spray can paints. The primer in my kit is the absolute best spray-can primer I have ever used. It has high build characteristics to fill minor imperfections, sands easily and provides a superior intermediate bond between the aluminum and the topcoat (both lacquer and enamel). The silver spray paint is the closest match I have found to the original factory color and has exceptional durability and cleans well without rubbing off. It is formulated to minimize the damaging effects of brake dust. It may not last as long as 2-part urethane, but it does a great job for the price and effort - and is more than adequate for us who use our Mercedes as daily drivers. If you want like factory show quality then you will have to spend more and go with base coat - clear coat.
WARNINGS: DO NOT SPRAY when temperature is above 70 degrees F. You will not get good flow out or shine. The paint will dray too fast. The wheels must be super clean and the paint applied properly above 60 degrees or you will have adhesion problems. Remember - it is all in the prep! My instructions explain how to properly prep your old wheels for new primer and paint.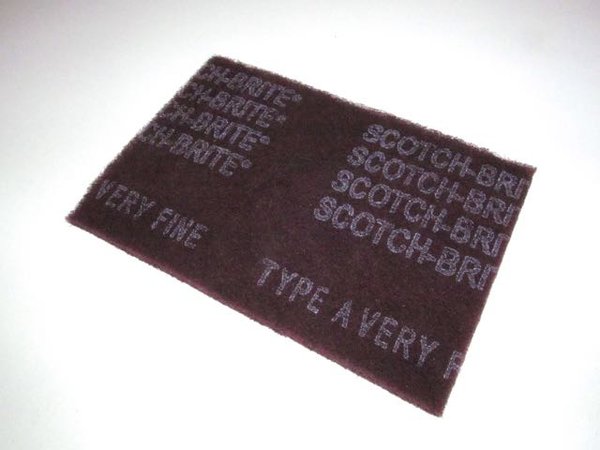 INCLUDED Scotch Brite very fine pad. This is included along with fine wet or dry sand paper to help with the best preparation possible. Use the sandpaper as per instructions. Use this genuine Scotch Brite pad for getting to all those hard to read curved places that need to be throughly cleaned and smoothed out for paint. Cut the pad in half. Use half the pad while scrubing the wheels with soap. Get down into the vent holes and around the outer service of the center hug. Use the second half (remaining clean half) to abrate the primer surface (should you choose to let it dry overnight) before application of the silver topcoat. 
Just look at the before and after results on this 1980 300TD wagon: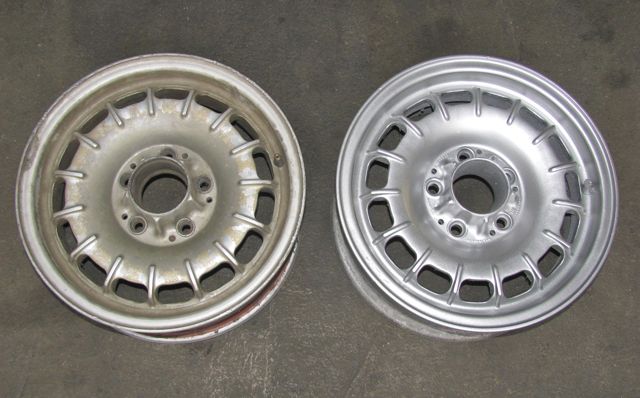 Our kit contains enough product to do one set of 4 wheels. You get one LARGE can of high build primer, one can of performance silver wheel enamel, 320 wet sandpaper, one tack rag, two pair of nitrile gloves and complete instructions. Note: If your wheels are peeling real bad or have a lot of flaws or you have more than four wheels to paint, you should consider ordering two kits.
On all my cars one of the first things I do is repaint the wheels. You know happens when you start making significant cosmetic improvements. You fix one thing and everything else looks bad. Repainting the wheels can make a HUGE difference in how the car looks for little cost and effort! Just look at how this wheel repaint came out on my 300SDL....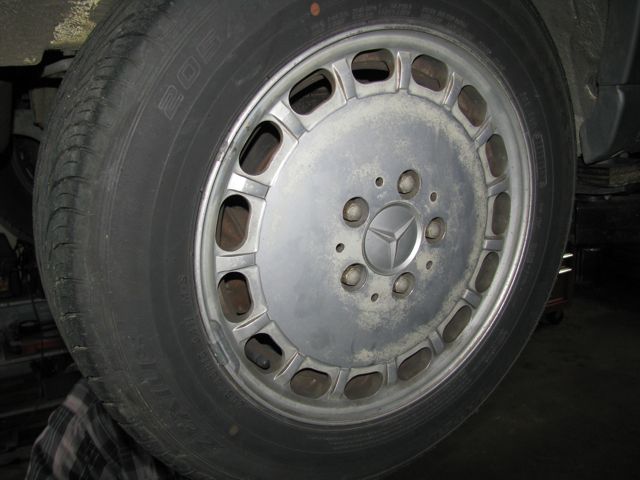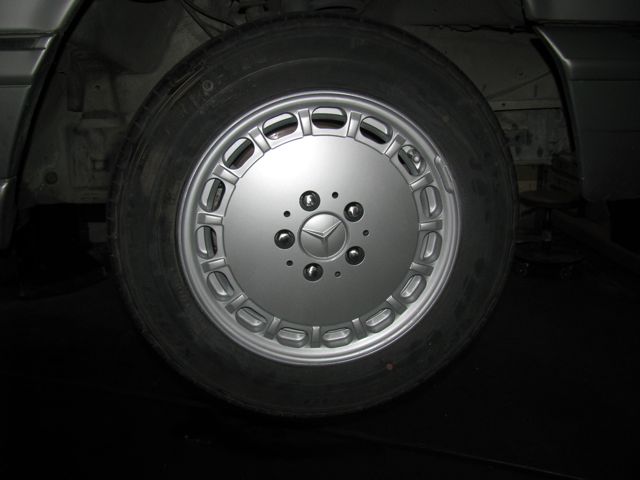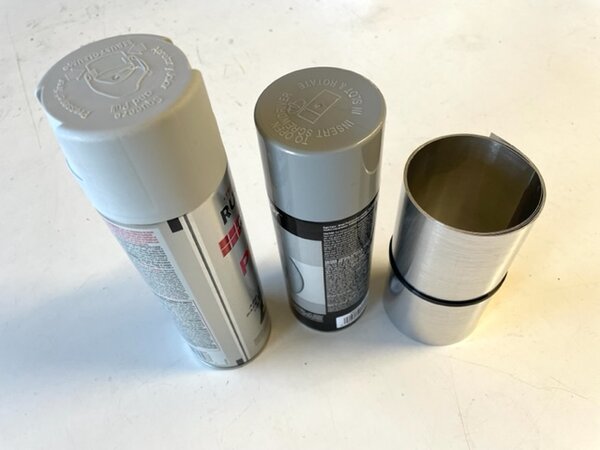 Kit contains the following:
1 can high build primer
1 can metallic wheel paint
1 roll aluminum paint dam 
1 sheet sandpaper
1 Scotch Brite pad
1 tack cloth
1 pair gloves
PDF instructions
Video instructions
TEMPERATURE WARNING: Do not try to spray when it is really hot. The picture belows shows what happened with this customer tried to spray when temp. was over 100 degrees! He thought something was really wrong with the paint. At that temperature the paint will actually start drying in the air before it hits the wheel! Be best flow out and shine spray your wheels between 50 to 70 degrees (max) F.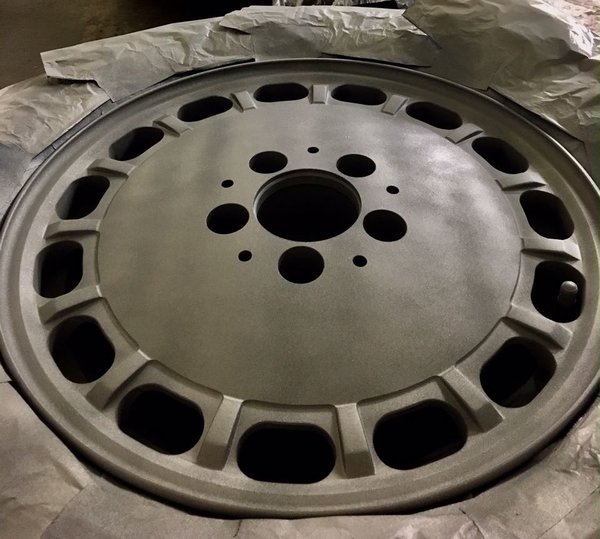 The aluminum paint dam included is used to keep the over-spray off the tire when the paint the wheel. In the picture above you can see how hard it is to mask the tire off with paper. The instructions included will expain how to use this roll of aluminum. 
You can use it as is or cut it in half down the full length to make two pieces (as shown below). Tin snips are the best way to cut it. You will need masking tape, packing tape or some other type of sticky tape to hold the ends together once you have placed it on top the tire and pulled it tight around the outer lip of the tire.
When painting be sure to keep an eye on where you are spraying. If you are careful you can angle the sprayer so it does not get any overspray on the tire (as shown in this picture below).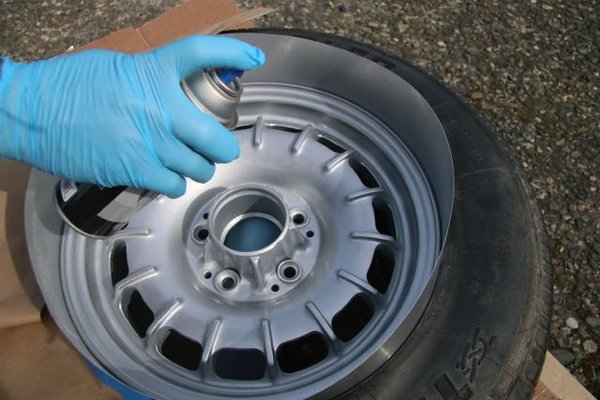 _______________________________________________________________________________
How to view the PDF digital instructions:
Once you complete the purchase of this product you will be able to download the digital instructions immediately when you are logged in and on your personal account page (click on My Account). Any PDFs will show up under My PDF Manuals. You will be allowed three downloads, so please save the file on your machine for backup.
_______________________________________________________________________________
Related Products:
---