Kent shows some of the initial things he had to do to his own 1987 300SDL
Anytime you pick up a 25 plus year old Mercedes diesel you are going to have things you will have to do to it. I don't care how "well maintained it was" or how low the miles are. Due to the age alone, there will be things you will have to fix on the car. Some of the work may end up just being good preventative maintenance. There will be challenges you will face when restoring one of these big diesel sedans, but almost all of it can be done by the D.I.Y. mechanic.
Problem & Solution
Common among these chassis:
W126
Say hello to one of Kent's most recent diesel project cars. Let him explain how he got the car in the first place. "My friend Al recently bought a 1930 Model A Ford Sedan and it now has become his new baby. So he offered to sell me his silver on black 300SDL. After a quick inspection on the lift and a good test drive, I decided it was a Mercedes well worth having. With 197,000 miles it is not mechanically worn out, and the body, paint and leather interior are in very good condition for its age. Of course, I spent most of my time checking over the engine for excessive blow by, oil leaks and any evidence of abuse. Here you see me checking the lobes on the camshaft. Scoring on the cam shaft is one indication the engine has not received regular oil changes. Engine and transmission passed inspection. Tires are new. Brakes and exhaust in excellent condition."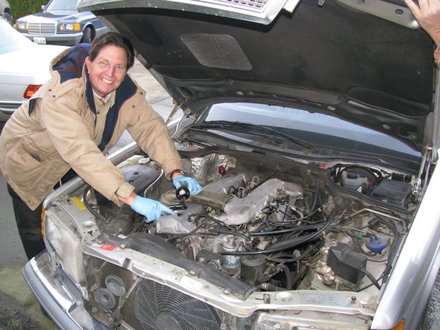 The car had some typical problems that needed attention, but nothing major. At the time Kent decided this vehicle would make an excellent candidate for a number of videos and written manuals on refurbishing an older Benz, particularly the late 126 chassis and 603 diesel engine. 
Right after acquiring the car Kent wrote quite a list of items that needed repair or replacement. Most of them he was aware of before purchasing it. The very first thing he had to fix was a left broken hood hinge. Talk about annoying! Every time he opened the hood to work on the engine he had to get a pad for the windshield and a pole to keep it from dropping on his head. The forward hinge pin had snapped right off. (Note: This is a common problem on 126 hood hinges - failure caused by rust due to lack of lubrication - you will hear Kent preach about lubricating 123 and 126 hood hinge pivot points on a regular basis). Used hood hinges are getting more expensive so Kent set out to see if he could FIX IT. To save time by not having to remove the hood he tied it with rope to the top of his car lift.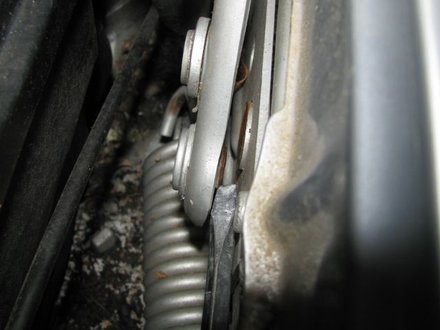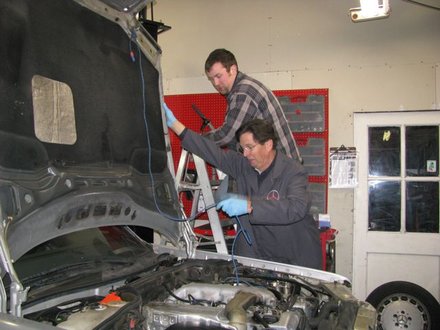 With the hood tied up securely, the two hinge pins were removed from the hood.  The hinge assembly is held to the inner fender panel with four nuts. Access to those nuts is from under the fender. The plastic mud guard liner had to be removed first.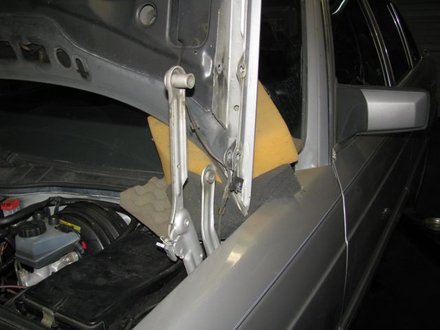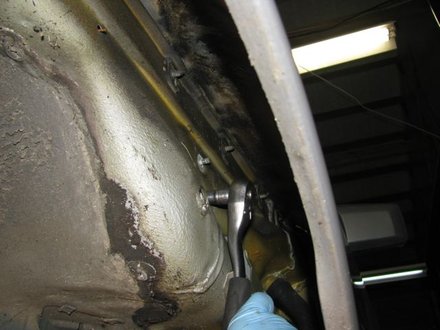 Once he had the hinge assembly off and on the bench, Kent could see a repair could be made using a high strength bolt with a thin head and a thin locking nut.  A good used flex disk bolt proved to be a perfect solution. Using a drill press, Kent drilled through the center of the broken pin. He had to use a grinder to reduce the thickness of the bolt head so it would clear the pivoting arm. When done, it fit right in without further modification of the inner fender panel! Now that was a cool repair and saved a bunch of money to boot!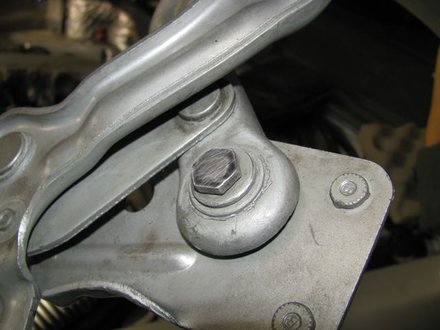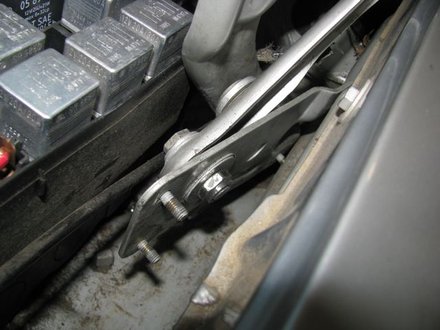 You can see Kent is happy now!  The hood operates and closes perfectly and the repair is stronger than the original. He made sure to thoroughly lubricate all the pivot points on both hinges to prevent this from happing again.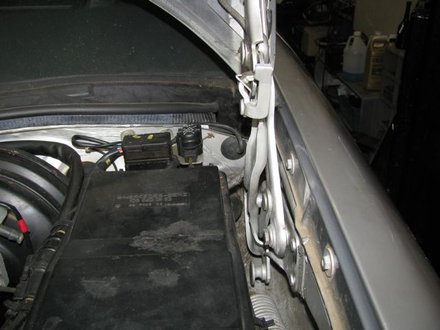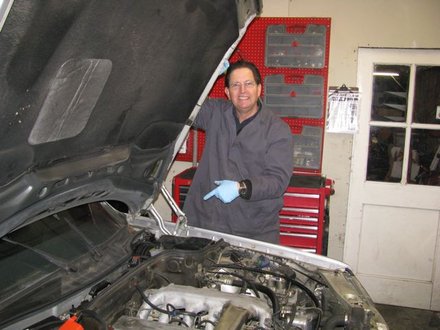 Later on it was decided to give the new car a Christmas present.  Kent knew he needed to concentrate on the mechanicals but just could not resist giving it a facelift for the new year! Look at the original condition of the headlights and grill.  Not inspiring and certainly not worthy of the marque...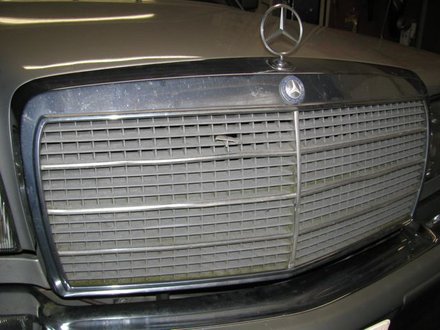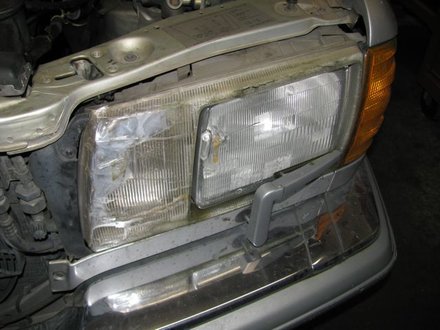 It needed new plastic headlight doors which the seller provided, but upon close inpsection he decided it also needed new headlight glass since there were some rock chips. And, why not new turn signal lenses as well. Aren't those new parts from Bosch nice looking? These parts were easy to replace.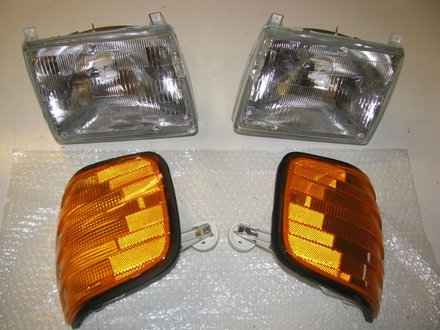 It was also decided to add a new grill.  The old one even with new chrome strips just didn't cut it next to the new headlights and side markers. The aftermarket grill comes complete and is not that expensive. Take a look at the end result below.  Was it worth it?  I will let you make the call...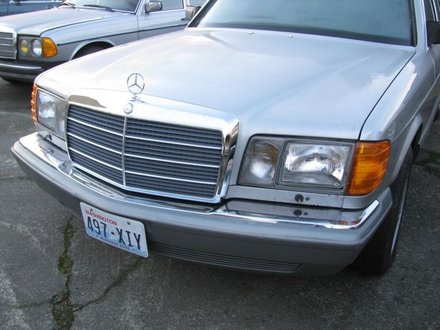 After doing the front end the ugly alloy wheels had to be repainted. That is what always happens when you make one significant cosmetic improvement. Everything else looks bad... :-). Just look at how the wheel repaint came out....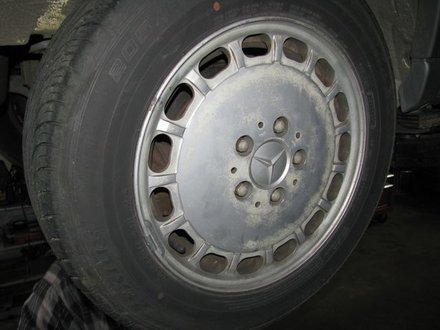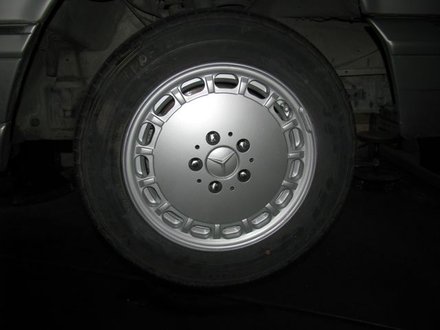 On almost all 126 sedans and coupes with over 150,000 miles they are going to need some front end work. If if the mileage is lower the rubber on a lot of the suspension problems will harder or collapse due to age - not mileage. Kent could hear some clunking in the front end so he started on the front suspension rebuild. Replaced the right front leaking brake caliper, installed new flexible brake hoses, and replaced the worn out idler arm bushing. This part is the no. 1 cause of sloppy steering linkage and it is a cheap and easy part to replace.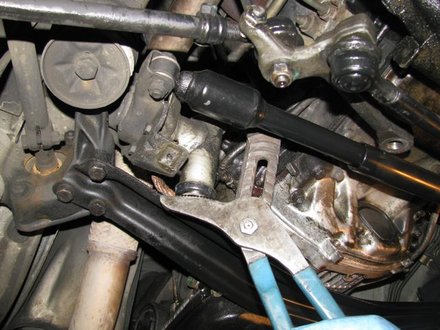 With the idler arm bushings out of the way, Kent started work on the guide rod mounts ( brake control rod). This is the number one reason for clunking front ends on the 126 chassis. This is such a common problem almost every 126 he sees needs these replaced if they have not been done already. See my front suspension video.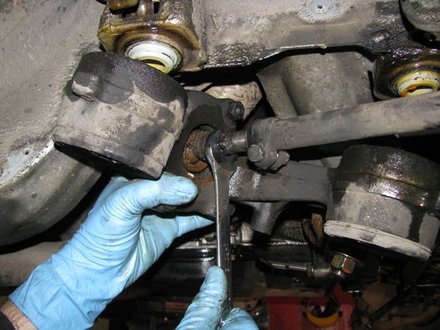 After the front end was all rebuilt he took it to the tire shop and had the front end aligned. Now the car drives straight and feels tight. With that out of the way it was on to other things like repairing power windows, fixing the vacuum door locks, repairing the tilting sunroof, replacing door checks, lubricating moving parts, rebuilding the turbo, replacing all engine compartment rubber vacuum hoses and connections. And on and on it goes....
He has done a number of on-demand videos that cover these repairs. Just use the search box and type in 126 with some key words. Be sure and select whether you are looking for TECH HELP or PRODUCTS