For original fuel pumps on many 1969 to 1975 D-jet fuel injected cars ( Mercedes, Porsche, Alfa Romeo, Etc.) - Study the picture below carefully to make sure you have a match!
Kent has sourced 2 special Viton o-rings for the outer pump housing on these early djetronic Bosch electric fuel pumps. There are two orings that harden with age causing the pump to leak fuel at the outer end of the pump. If a d-jetronic car sits for a long time the pump will "gum up" for old fuel varnish and not spin. If your pump is not working all you may need to do is open it up and clean it. That will require the two seals included in this kit. Watch the video below to learn more. Kent will explain how to open the pump and clean it. These o-rings are made of Viton and will hold up much better than the originals when using today's fuels. Along with the 2 o-rings, you will receive a cleaning pad and a very small container of RedLine assembly lube to use on the impeller parts when putting the pump back together.
Bosch D-JETRONIC Fuel Pump Outer Reseal Kit
$19.85
Product Details
IMPORTANT NOTE: There is a third seal that is located at the top of the metal crimped housing for the pump motor. This is very had to get to and requires some very careful bending of the motor housing tabs. Sometimes you can not get the pump to reseal once you take this section apart. Because of this, only the 2 outer seals for the impeller housing are included. Watch the video to learn more. 
This is what the pump looks like. Make certain you get under the rear of your car and inspect your pump carefully before ordering this kit. Often newer style pumps have been installed in these old cars.!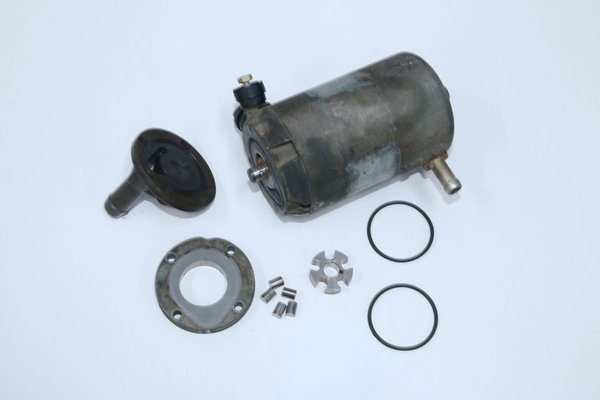 Below you can see what happens to the o-rings over time. They flatten out and lose there seal.