Keeping your injectors clean and tuned is one of the best ways you can improve mileage in a diesel. Buy both Kents new manual Diesel Fuel Injector Cleaning and Testing Procedures and his Top Brass Custom Cleaning Tool Kit and save!
Diesel Fuel Injector Tuning Manual and Top Brass Tool Kit - Combo Special
$55.75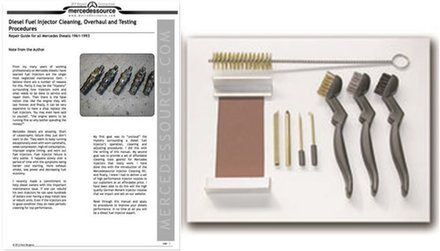 Product Details
The manual covers diesel fuel injector removal, disassembly, cleaning, overhaul and testing. To read more specifics about this manual click on the link below.
The injector cleaning tool kit (designed and hand fabricated by Kent Bergsma) includes all the custom brass tools you will need to succesfully clean your own fuel injectors without damaging the critical internal steel surfaces. To read more about Kents tool kit look below.
This is a must have set for any diesel owner who does some or all of his own maintenance.
Related Products:
---