CURRENTLY SHIPPING WITH HENGST BRAND FUEL FILTERS
FITS THE FOLLOWING: All Mercedes Diesel engines from 1977 to 1985 except 190D. This includes 123, 116, and 126 chassis 240D 300D 300TD 300CD and 300SD. Here is a chance to pick up all those most used diesel engine service parts in one kit for one great price. I even throw in something that most kits never include.
Diesel Service Kit (2) 1977 to 1985
$89.50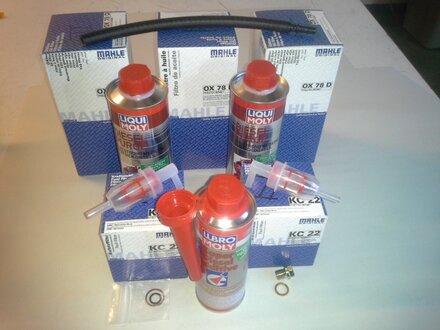 Product Details
PLEASE NOTE: This kit contains liquids that can only be shipped by UPS ground. Due to this requirement we can only ship to the continental lower 48 states and no international. Sorry for this inconvenience.
Here is what this kit includes: 3 oil filters 2 main fuel filters 2 plastic pre filters Diesel purge kit to clean injection system I Diesel High Test fuel tank additive Fuel filter o-ring set New oil pan plug. This kit will help put many more miles on your beloved diesel.
_______________________________________________________________________________
How to view the PDF digital instructions:
Once you complete the purchase of this product you will be able to download the digital instructions immediately when you are logged in and on your personal account page (click on My Account). Any PDFs will show up under My PDF Manuals. You will be allowed three downloads, so please save the file on your machine for backup.
_______________________________________________________________________________