For MFI fuel injected 6 cyl. 220SE 250SE 280SE, 280SEL, 230SL, 250SL, 280SL and 6.3 only
Worried about the internal condition of the fuel tank on your old 1959 to 1972 mechanical fuel injected Mercedes? Not sure if it has rust or other contaminants inside it. A rusty fuel tank can damage your valuable electric fuel pump and the super fine particles can work there way up into your engine over time. 
Early Fuel Injection Electric Fuel Pump Pre-filter Upgrade Kit
$28.95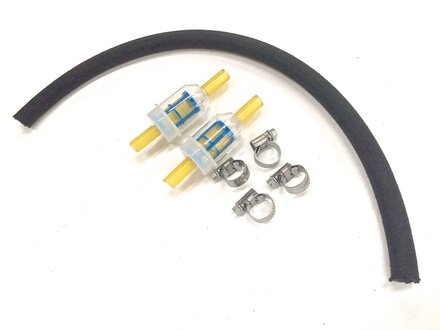 Product Details
Kent advises installing this fine micron see through filter in the hose between your fuel tank and the fuel pump. This will not only add extra protection for your pump but will also let you see visually what is actually coming out of the tank!
This kit includes the following:
Two modified clear plastic pre-filters that fit the larger size fuel hose
Correct size and type fuel hose to assure a proper fit for the new filter
4 quality hose clamps
NO written instructions are included with the kit, but we do recommend you watch Kent's free YouTube video where he explains how this filter works and where it is installed. CLICK HERE TO VIEW VIDEO. You will need to drain the fuel out of your fuel tank. Be sure to note the direction of flow through the filter (see arrow on the side) and do not overtighten the hose clamps on each end of the new fitler. A second filter is included should be find you have an extremely dirty fuel tank. 
If you have the short style fuel pump we highly recommend that you install new seals to prevent the pump from leaking fuel in the future. See related products below for more information on this fuel pump reseal kit. 
Related Products:
---