1970 to 1980 models - Inspect and replace the hold down clips for the oiler tubes or you will be sorry.
Fits 111, 108, 109, 107, and 116 chassis with the 3.5,  4.5 or 450 V8 116 / R107117 engine up to 1980.  If you have already read my manual on Preventing Catastrophic V8 Engine Failure or seen my Youtube video you know how critical this is.  Here is a kit of the initial parts you need to replace to make sure your engine does not self-destruct due to the failure so some inexpensive plastic parts. As seen on Cherry. CLICK HERE to watch the full video series on Kent's R107 rolling restoration.
Early M116 and M117 Camshaft and Engine Survival Kit
$78.50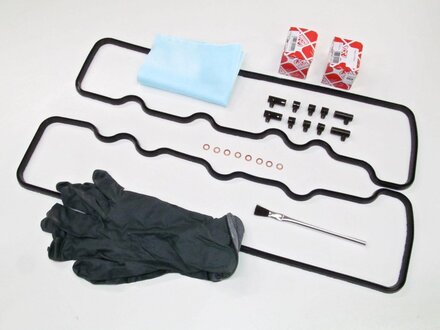 Product Details
If you have not read my manual then I highly recommend you do so. It will explain the problems as well as other things you should inspect when you have the valve covers off your engine. It includes information or replacing the guide rails and the timing chain. It also includes instructions on how to adjust the valves on the early engine up to 1976. Look below to order this manual if you do not already own it.
This kit contains the following:
Heavy duty gloves, lint-free cloth, and acid brush
Two sets of plastic oil tube clips - both large and small (see special note below)
2 new quality valve cover gaskets
8 hard-to-find copper sealing washers for the valve cover hold down bolts.
Free on-demand video instructions. They are detailed step-by-step
SPECIAL NOTE: In the mid-1970's Mercedes enlarged the size of the oil tube. We want to make sure you get the right clips for your engine so we are including BOTH sizes of clips to ensure you have the right set. The set that does not fit your tubes can be discarded, given away or sold...
Related Products:
---