Only fits 126 Chassis gasoline 6 and 8 cylinder 1982 to 1989 - See model list below
NO EXPEDITED SHIPPING. Please expect up to 5 working days before the unit can be shipped. We will custom assemble them upon ordering.
Early W126 Gasoline Models Steering Lock Assembly with New Tumbler and Install Manual Included
$264.00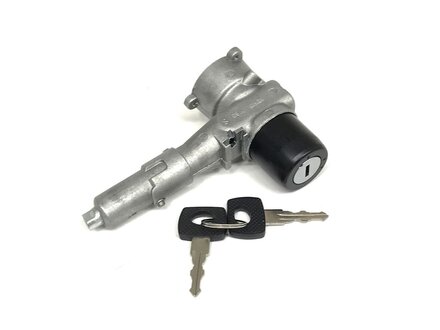 Product Details
Due to the unreliabilty of many new aftermarket tumblers sold we will NOT sell the steering lock separately. We do not want you going through the pain and expense of installing a tumbler into a new steering lock only to have it "lock up" on you. When this happens you have to cut the black cap off to fix it!!!  This only works on the earlier 126 chassis cars that do not have a transmission lock out.  If you have to turn the key on in order to take the transmission shifter out of park THEN THIS PART WILL NOT WORK IN YOUR CAR.
This is the part you will need when your ignition key continues to stick even after installing a new tumbler assembly. In over 70 percent of the cases involving a severely sticking key, I have found you need to replace both the tumbler AND the steering lock if you hope to have a lasting repair. They tend to wear each other out if the problem is not corrected early on. In cases where the key just begins to stick slightly while turning, you can sometimes get by only having to replace the tumbler assembly.
Fits all the following models listed below from 1982 to EARLY 1989 - 6 CYLINDER 300SE 300SEL, and 8 CYLINDER 380SE 380SEC 380SEL 420SEL 500SEC 500SEL 560SEC 560SEL
This is a new Ignition steering lock assembly with a new tumbler key assembly installed with instructions.  We include Kent's manual on steering lock removal and install for your reference. When you receive the steering lock you will note a hole in the side of the housing. This is the exact same assembly that is made for the diesel cars that have a small vacuum switch mounted to this hole. Since you have a gas car this switch is not needed. No electrical switch is included. See related products below to order separately.
If you have a W126 with a transmission that you can not get out of gear until you turn the key (transmission lock out) then you will need to order the newer unit we sell. See related products below: 
Related Products:
---