Requires Kent's special tool to take the pain out of this job! These are the instructions only.
Kent came up with this kit because of all the times he replaced e-brake shoes only to end up with battered knuckles and extreme headaches. This video is included free with the purchase of the toolkit. If you watch this video and do not have his special tool then some of the procedures you see will be difficult to apply.
Emergency / Parking Brake Shoe Installation w/ Ease - On Demand Video
$15.99
Get it for Free! This is available as a free add-on item. Review the product details for bundle options.
On Demand Video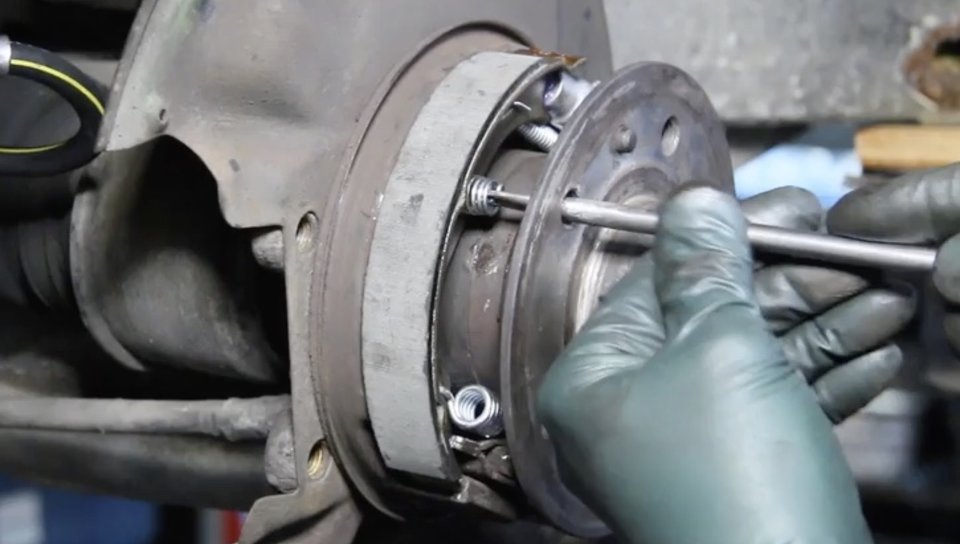 Product Details
The video includes the following:
Removing the rear brake drum
Inspecting the shoes, springs, and actuating cables
Cleaning the brake and backing plate assembly to avoid breathing brake dust
Removing the old shoes
Prepping and lubing the new shoes for installation
How to easily install the new springs with Kent's 3 in 1 tool
Fitting and sanding the new brake shoes
Adjusting the emergency brake with Kent's 3 in 1 tool
Cleaning and preserving the mounting surfaces before wheel installation. 
Total Run Time: 25:37
---
How to view this on-demand video:
Once you complete the purchase of this video you will be able to view it immediately when you are logged in and on your personal account page (click on My Account). The video(s) will show up under My Video Manuals. The video is NOT downloadable to your computer or mobile device, but you will be able to view it anytime, from anywhere and from any device as long as you have internet access and you are logged in to your account at mercedessource.com.
Important note: This video manual may or may not include all the information you will need to troubleshoot and/or repair your specific problem/s. Please read the full description carefully to determine if this video is applicable to your year and model and contains the information you are looking for. If not, please refer back to our "Solutions Finder" and enter your chassis number and the specific problem you are having to see if we offer a solution.
Related Products:
---