Kent's special tool and video instructions included. See applicable chassis and model list below BEFORE ordering.
Emergency brake shoe maintenance is often neglected because the rear brake disc / rotor has to be removed to inspect and repair them. If the car has ever been driven a long distance with the emergency brake on, expect problems. The clips can break causing weird grinding and scraping noises in the rear brakes. They easily fall out of adjustment due to wear and need to be checked periodically. This kit combines both the brake shoes and springs with Kent's special tool easy install kit. Watch the video here to learn more.
1968 to 1991 Most Models Parking Brake Shoe Replacement Kit with Extras
$69.95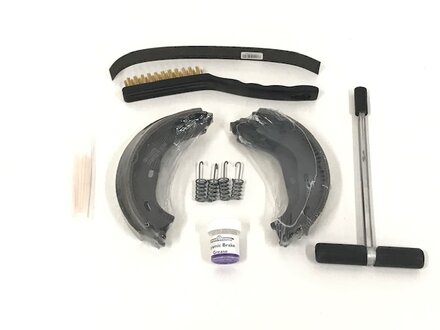 Product Details
This kit works on ALL Mercedes Gas and Diesel models 114, 115, 107, 116, 123, and 126 chassis 1968 to 1991. It also fits late model 111, 113, and 108 chassis 1968 to 1973. They do not fit the W201, W124, R129 or W140. This is a brand new emergency brake shoe set. Complete set for both sides with hold-in springs as shown, plus Kent's on demand video on brake shoe replacement and adjusting procedures. NOTE: Other springs that hold the ends of the shoes are not included. Plan to use your existing top and bottoms springs. These shoes are also sold separately if you already have or do not need the custom tool kit. See related products below.
Now is a good time to remove your rear brake rotors and inspect those brake shoe linings. As seen on Cherry. CLICK HERE to watch the full video series on Kent's R107 rolling restoration.
Related Products:
---