Kent shares all his tips and tricks to get the pad on straight, permanent, and looking good
If you are interested to see how easy it is to install a new hood pad, this video will let you see Kent demonstrate the process step-by-step. If you have purchased one of our hood pad kits, then this video can help you get your new pad lined up and installed properly. 
How to Properly Install a Foam Hood Pad - On Demand Video
$9.99
Get it for Free! This is available as a free add-on item. Review the product details for bundle options.
On Demand Video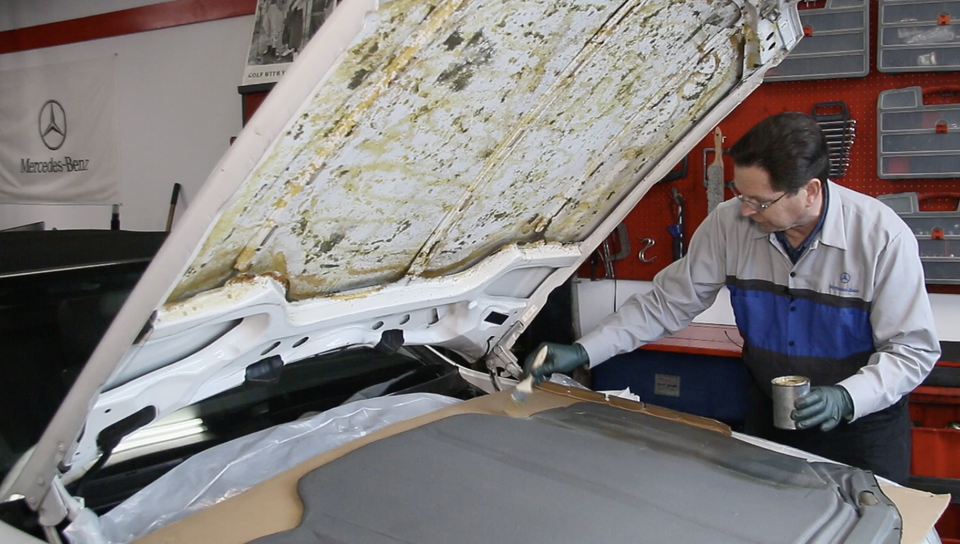 Product Details
Video Preview:
Even though the size of the hood pads differ, the procedure for installing almost all hood pads from the early 1970's up through the mid 1990's is the same. This video will cover the following:
Proper preparation

What plastic sheeting required
Correct tool to use to remove the old pad
Cleaning the underside of the hood
Application of the special glue
The importance of timing how the glue dries
You must brush quickly
Tricks to getting the pad aligned properly before sticking to hood
Importance of having a helper
Trimming the edges for a better fit
Closing tips
This video was filmed while replacing a hood pad on a 1990 W129 300SL. Principles apply to hood pads for the W116 W107 W123 W126 W201 W124 and early W129 Chassis
Total Run Time: 16:41
---
How to view this on-demand video:
Once you complete the purchase of this video you will be able to view it immediately when you are logged in and on your personal account page (click on My Account). The video(s) will show up under My Video Manuals. The video is NOT downloadable to your computer or mobile device, but you will be able to view it anytime, from anywhere and from any device as long as you have internet access and you are logged in to your account at mercedessource.com.
Important note: This video manual may or may not include all the information you will need to troubleshoot and/or repair your specific problem/s. Please read the full description carefully to determine if this video is applicable to your year and model and contains the information you are looking for. If not, please refer back to our "Solutions Finder" and enter your chassis number and the specific problem you are having to see if we offer a solution.