If the electric pump is not working and you don't want to replace it. GET IT OUT of your system!
Since the original style Bosch electric water pumps are no longer available NEW. If you need a replacement pump, you have three options. 1. Buy a used pump. 2. Buy our newer pump conversion upgrade. 3. Take your inoperable pump out of the system. This kit will help you do #3  It only works on late 1981 to 1985 W123 300D, 300CD, and 300TD. Leaving a non-working pump in the system restricts coolant flow through your monovalve and will reduce heater performance.
Late W123 Bosch Electric Auxiliary Water Pump BYPASS Kit
$12.75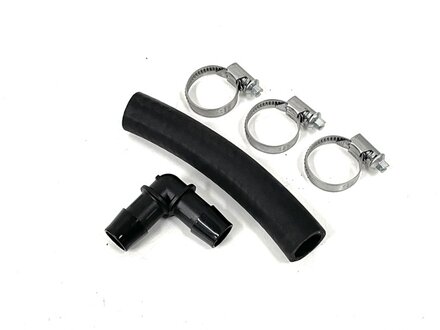 Product Details
The kit includes the parts as shown. Since it is easy to install instructions are written here. You will have to clamp off the hose coming from the water pump housing or drain your coolant. Use the new hose between the elbow and the metal tube going to the monovalve. the hose coming from the water pump housing can be used. It is a tight fit over the nipple but it will work. Use a thin coat of silicone grease to get it to push on. 
Bypassing the pump is better than doing nothing, but we highly recommend you replace your old Bosch electric coolant pump with the newer Bosch pump used in many of the 1990 and early 2000 models. This pump will increase the reliability and performance of your climate control system. We offer a complete conversion kit. See the related products below:
Related Products:
---