For 1998 to 2005 C320 E320 E430 E500 CL500 CLK320 CLK500 S430 S500 ML320 ML500
Oil filter changes are important, but I believe on these high interval oil change schedules that changing the oil fitler can be just as important! Use the wrong filter and the engine can suffer serious damage. Leave the filter in too long and the engine will experience irreversible bearing and piston ring wear.
M112 V6 M113 V8 Fleece Engine Oil Filter Replacement Kit
$34.95
SKU:
GEG-M112M113OFILTERKIT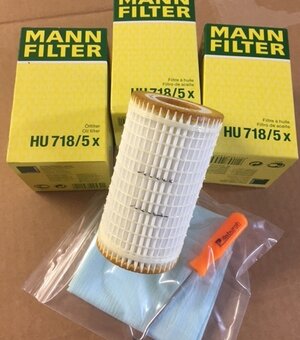 Product Details
Watch Kent's Youtube video by clicking on the arrow in the center of the picture above. He will give his recommendations and explain in more detail why he is now doing a mid interval oil filter change with a quality German made fleece filter. That means - half way through the oil change cycle he quickly removes and replaces the oil filter only... and that is real easy on the M112 V6 and M113 V8 engines. 
This kit includes 3 high quality fleece fitlers, three special lint free wiping towels, and one hooked pick tool to help you remove the four o-rings that will have to be replaced when changing the filter. The kit also comes with free step-by-step video instructions so you can successfully do the job yourself!  And that is the MOST IMPORTANT THING OF ALL!!!