Use Multiple Coats of Miracle Paint and Sand Between Coats to Stabilize and Level - Ideal for Leaking Chrome Wheels and Surface Rust Pitted Steel
This kit was developed by Kent primarily to fix leaking chrome wheels. The free on-demand video that comes with this kit shows the detailed process of cleaning and filling the corroded areas along the edges of the inside of the wheel to seal them and stop annoying tire leaks. The principles also apply to fixing pitted areas of rust in the body under chrome strips and trim, under the car, and inside the trunk. Watch the video below to learn more! NOTE: You will not see the black after you install the tire if you are careful not to paint over the edge of the rim. 
Rust and Corrosion Small Pit Filling and Leveling Kit w/ BLACK H.D. Miracle Paint
$40.95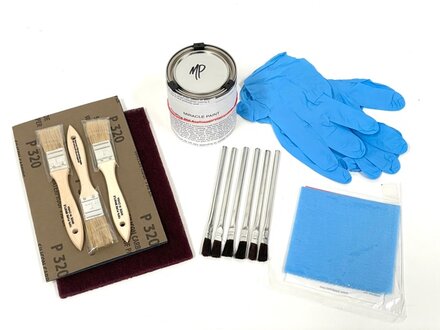 Product Details
The kit includes the following:o
One pint of heavy-duty BLACK Miracle Paint ( NOTE: Silver no longer available ) 
3 one-inch paintbrushes
5 acid type "paint" brushes
Purple Scotch Brite Pad
320 wet or dry sandpaper
Tach cloth to clean off the dust
2 pairs of nitrile gloves
22-minute full video instructions on using this to repair leaking tires on chrome wheels.
If you are experiencing rust in and around the channels of your sunroof, this is also the perfect kit to stop the rust from growing in the water channels and drains. You will find many other small areas of minor rust that this kit will work on. 
Related Products:
---