450SE 450SEL 300SD 300DT 300CDT and 300TDT 380SE/L to 1984
WILL NOT FIT 85 CALIFORNIA MODELS!! It will fit some 1985 Federal Models only.
V8 116, Turbo 123, Early 126 Radiator Expansion Tank w/ Plug Preinstalled and CAP
$68.95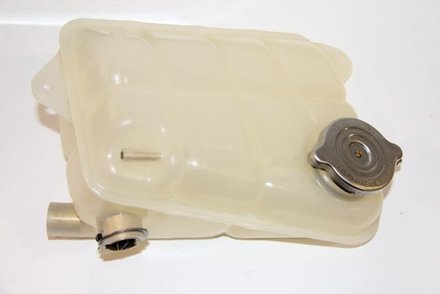 Product Details
Original early style overflow coolant tanks are no longer available. For these early models mentioned above you must purchase the later model tank. This tank is exactly the same except it has an extra side port for the tank level indicator. This port is not used on the early models so a special GENUINE O.E. plug is provided to close off that hole. If you buy from another company you will have to install the plug and without the special tool it is not easy to do. You may even end up totally frustrated. Some have reported breaking the tank trying to get it installed.
We remove this hassle for you by having Kent drive the tank out to his shop and then installing the plug for you with his special tools. We have to beg him to do it so pleased don't expect overnight shipping...  :-)
PLEASE NOTE: A new filler cap is included.