# 2 cylinder connecting rod broke in half and blew out the side of the block in a 300SD!
Want to find out what caused the catastrophic destruction of an OM 617 5 Cylinder turbo diesel engine? These engines are known for being indestructable so something really bad had to happen. Was it loss of oil, overheating, loss of timing chain, or some other major issue...or maybe it was something small that caused such a big expensive problem. Kent will show you the engine from a W126 300SD that literally came "unglued." He will walk you through his inspection process and show you some of the things he discovered when he examined the clylinder head, piston, and engine block.
What Caused an OM 617 Turbo Diesel to Destroy Itself - On Demand Video
$8.99
On Demand Video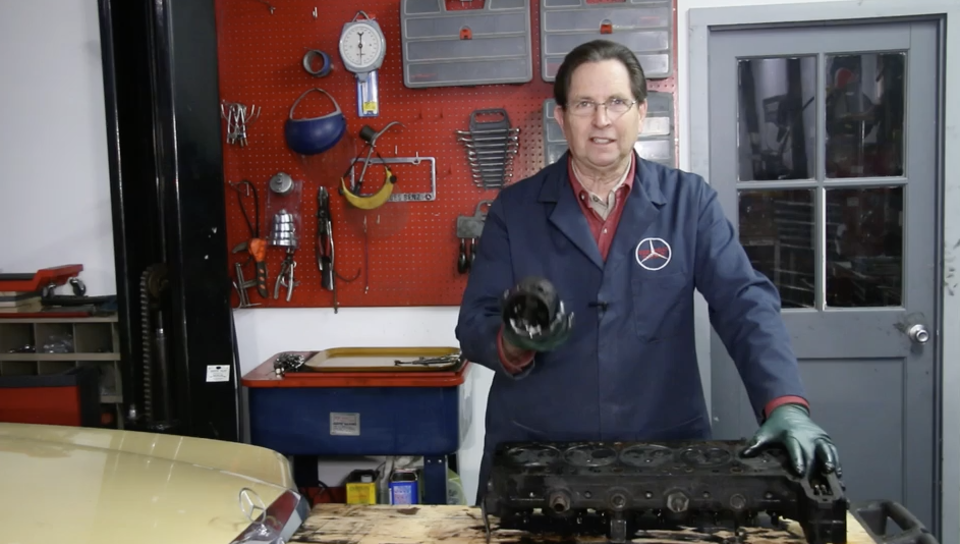 Product Details
If you want to hear the engine try to run and see some of the external damaged caused by the connecting rod failure then please see Kent's two free Youtube Videos 
Part 1 CLICK HERE
Part 2 CLICK HERE
This video specifically covers the following:
Showing the head off the engine on a cart
Use of plywood to get the head out of the engine compartment
A look inside the engine compartment with the head off
Close up of damage to the engine
Evidence showing on the cylinder head giving a clue
Evidence showing on the piston giving an additional clue
Close inspection of the piston 
Not common on these engines
Some things you can do to prevent this type of damage
A couple things shown that were NOT the cause of the problem
Up close look at the cylinder block again
Why it might not be loss or lack of oil
Inspection of a good piston and rod out of the engine
Close up look on the skirts and rings on the piston removed from the bad cylinder
Inspection of the camshaft and what that means
Reason for frequent oil changes and how often
A look at 5 little parts that are key to a healthy 617 turbo diesel
Close up look inside another engine block showing how these 5 parts are mounted and how they work
Could it be that one of these 5 little parts failed to function properly
What could have caused the malfunction
3 possible reasons for failure of the connecting rod
What Kent feels is the key reason for this engine failing
Speculation on what could have caused it
No proof - but Kent thinks he is close to figuring it out
What you can do to prevent this from happening to your own diesel engine
PLEASE NOTE: This video does not cover taking the engine apart nor does it cover the process of removing the cylinder head and piston. 
Total run time: 20:38
---
How to view this on-demand video:
Once you complete the purchase of this video you will be able to view it immediately when you are logged in and on your personal account page (click on My Account). The video(s) will show up under My Video Manuals. The video is NOT downloadable to your computer or mobile device, but you will be able to view it anytime, from anywhere and from any device as long as you have internet access and you are logged in to your account at mercedessource.com.
Important note: This video manual may or may not include all the information you will need to troubleshoot and/or repair your specific problem/s. Please read the full description carefully to determine if this video is applicable to your year and model and contains the information you are looking for. If not, please refer back to our "Solutions Finder" and enter your chassis number and the specific problem you are having to see if we offer a solution.
Related Products:
---