They can fall off especially if your exhaust system is sagging or not mounted properly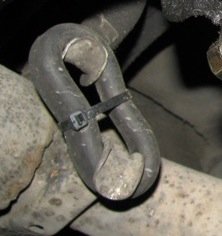 Sometimes it can be frustrating to keep an exhaust hanger ( or what we call donuts) from falling off its metal hangers - especially if some exhaust shop has redone the system and has not properly aligned the hangers. You really don't want these falling off when you are driving down the freeway!
Problem & Solution
Common among these chassis:
Classic Sedans
R107
W108 W109
W110 W111 W112 Sedan
W111 W112 Coupe
W113
W114
W115
W116
W123
W124
W126
W201
Best way I have found to keep them from falling off is to use a zip tie as shown below. Squeeze the center of the donut together to help keep it in place. Exhaust donuts fail regularly and should be inspected yearly. Replace them at the first sign the rubber has started to crack. We do carry a heavy duty type that has a center plug but these sometimes will not work if the hanger brackets are not lined up correctly.