Only applies to certain models from 1984 to 1995. See list below
When you replace the key and tumbler assembly on any of the following models ( 1984 to 1993 W201 190E and 190D. The 1986 to 1993 W124 260E 300CE 300D 300E 300TD 300TE and 400E. The 1994 and 1995 W124 E300 E320 and E420. The 1990 and 1991 W126 300SE 300SEL 350SD 350SDL 420SEL 560SEL and 560SEC ) you have to first remove the heavy black metal "SNAP TYPE CAP" that holds the tumbler inside the steering lock housing. We have a special tool and instructions to help you get this black cap off.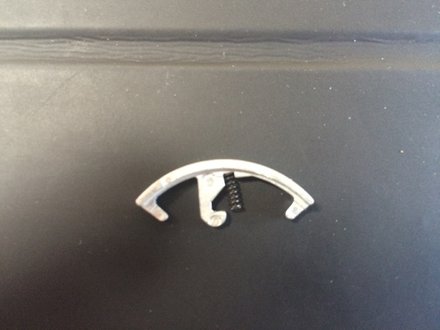 Problem & Solution
Common among these chassis:
W124
W126
W201
There are two spring loaded "clips" just like you see in the picture above, that "lock" the black cap to the steering lock assembly. If you are not careful one or both of the clips can "fall out." A customer recently sent this picture asking what was the "left over part?" If you only dislodge one of the clips the other will hold the black cap in place (granted with a little less security). So don't worry too much if you find one of these clips on the floor of your Benz after installing the replacement tumbler. 
Kent has designed some tools and filmed a number of videos to help you with your key and steering lock problems. REMEMBER, if your key starts to stick and you find it hard to turn REPLACE the tumbler right away or you WILL get stranded - and the repair is much more expensive if you can not turn your key. Kent even designed a special emergency release wire tool that will help get those stubborn tumblers out of the steering locks (provided you can still turn your key!). See related products below: