For 1984-1993 W201 and 1986-1995 124 chassis sedans, coupes and wagons. 1990 and 1991 W126 sedans and coupes with transmission lockout ONLY (models listed below).
If you are having problems with a sticking key a new tumbler a new tumbler and key may or may not fix your problem. We are finding on high mileage cars that the problem can often be the steering lock is worn out cause the key to "stick" or "catch" when you try to turn it. Replacing the tumbler is not difficult if you have the right tools and know-how and can turn your current key. You can actually do it sitting in the car in less than 10 minutes. The free 26-minute video instructions go over the theory of operation, the problems you might face, and how to do the job right. Without the special tool and instructions on how to properly a tumbler, the job can be very frustrating. The forums can even be misleading and sometimes give you the wrong or incomplete information. Keep in mind the new keys will not match your door locks, so you will need to continue to use your old key for that purpose.
W201 W124 Late W126 Ignition Switch Tumbler w/ Two Keys - Tools and Video Instructions Included.
$68.75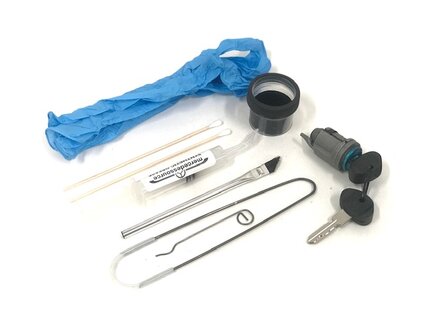 Product Details
Please note the following:
1. This tumbler is not returnable once installed in your car.  If it does not fix your problem, it means you have a worn-out steering lock.  We are not able to sell igniiton locks separately and are not able to take your tumbler back and install it in a new steering lock. If your key is still sticking after installing this part, the ony solution we can offer you is to purchase a complete tumbler and lock assembly ( pre-assembled and tested). Worse case scenerio for you is you will end up with an extra tumbler for future use.
2. You must be able to turn your key to the first on position. If your key is stuck in the off or full-on position then you can not install a new tumbler. You will need to spend a couple of hours grinding or drilling out the old steering lock. Kent's ignition lock manual fully explains how to do this ( see related products below ). You will then need to purchase a new steering lock and tumbler assembly (assembled and match tested here) - see related products below:
3. Assured Quality Control: Each tumbler is taken apart here in our shop, machined to function perfectly, thoroughly inspected, lubricated properly, and tested multiple times upon reassembly. We often feel sorry for people who unknowingly buy tumblers on eBay and other sites and are not aware of the multiple problems that can occur when trying to install one that is faulty. In some cases, these cheap tumblers will seize in your steering lock and then you have a very expensive problem indeed. We want to clarify this here, so you'll know when you install one of our tumblers and it does not fix the problem it is NOT the tumbler!!!
Full List of Applicable Models: This two-keyed ignition tumbler assembly fits all W201 190E and 190D from 1984 to 1993 and all 124 chassis 260E 300E 300CE 300D 300TD 300TE 400E 500E E300 E320 E420 and E500 from 1986 to 1995.  It also works on the 1990 and 1991 126 300SE 300SEL 350SD 350SDL 420SEL 560SEL and 560SEC (ONLY 1990 and 1991 126 models with transmission lockout cable ( that means your foot must be on the brake pedal to move transmission selector).
The Reason to replace it early: Our tested ignition tumbler assembly is easy to install as long as you have a good key and can turn on your switch with it. This is the main reason we strongly urge our customers to change the tumbler assembly at the first sign it starts to stick or jam. A new tumbler and key is cheap. But, if you wait too long, then you can get stranded somewhere not being able to start your engine. You may have to pay for a tow to a shop. Then replacement can become a huge hassle and very expensive, often costing $500 to $1000 in a shop. If you do it yourself, you may still have to buy a complete new lock assembly as well as a new tumbler and key.  A word to the wise. Don't wait to fix a sticking or hard to turn ignition key!
If you want to learn more about the theory of operation and the problems you might face please watch Kent's YouTube video playlist on ignition locks and tumbler assemblies. CLICK HERE TO VIEW FREE VIDEOS
BONUS: Kent's on-demand instruction video and a complete tool kit as shown below are included. This is the only kit like this in the world.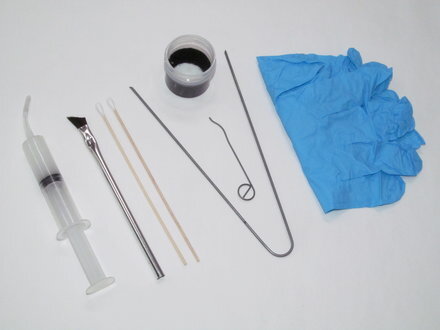 The picture below shows the new tumbler being installed in a 1990 300SE.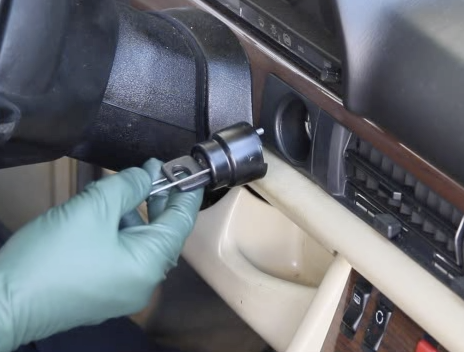 Related Products:
---