For select models 1975 to 1989. With the right tools and knowledge you can do this yourself sitting in the car!
This video is not only going to show you how to remove and replace the "screw cap" style tumbler, but it also going to explain the theory of operation and how to avoid certain pitfalls when doing this job yourself. And YES, there are pit falls. Many have installed the tumbler incorrectly only to have the mechanism jam up so the key will not turn !
Replacing and Servicing Screw Cap Style Ignition Key Tumbler Assemblies - On Demand Video
$14.99
Get it for Free! This is available as a free add-on item. Review the product details for bundle options.
On Demand Video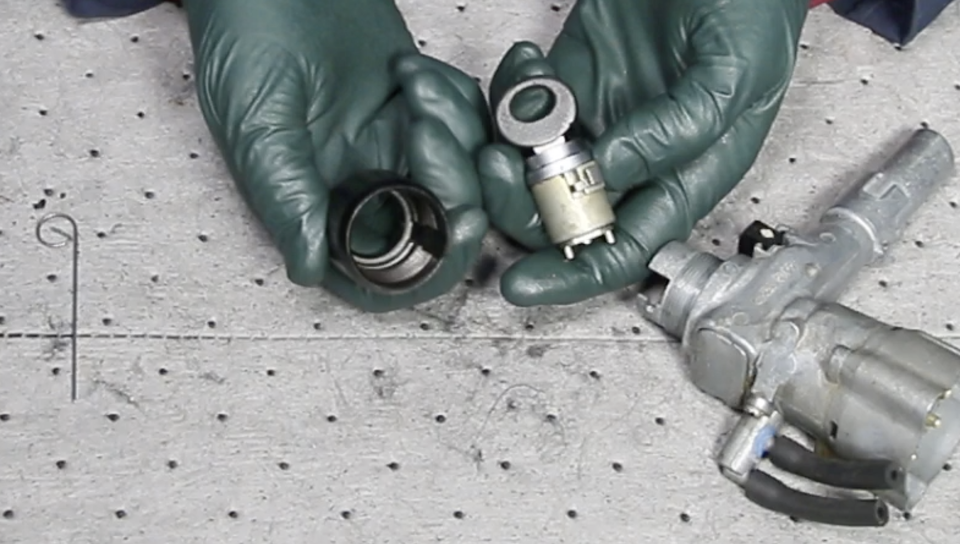 Product Details
Helping people understand how the mechanism works and how to avoid problems is the main reason Kent decided to do this video. He also has recently received so many email questions on this topic that he decided it was time to have an ignition tumbler "video class."
This video only applies to those years and models that have a heavy black metal cap over the ignition tumbler that screws on and off the steering lock housing (see picture). PLEASE READ THE YEARS CAREFULLY. These include the 1975 to 1980 W116 280S 280SE 450SE 450SEL 300SD and 6.9. The 1975 to 1985 R107 450SL 450SLC 380SL and 380SLC. The 1980 to 1985 W123 240D 300D 300CD 300TD 280E and 280CE. The 1981 to 1989 W126 300SD 380SE 380SEL 380SEC 500SEL 500SEC 300SDL  300SE 300SEL 420SEL 560SEL and 560SEC. DOES NOT apply to the early W123 models (1977 to 1979 that have a thin black plastic cap and does not apply to any model 1990 or newer. If you have any questions please email us. There is no refund on this video if you order in error.
This very detailed video specifically covers the following:
Explanation of different types of tumblers
How to determine if you have the screw type cap
How to remove the tumbler from the steering lock
The pin tool required
How to clean the tumbler and inside the locking mechanism
How to properly lubricate the latch mechanism and tumbler
Using the curved tip syringe to apply the proper lubricant
WARNING: proper alignment BEFORE inserting tumbler
Theory of operation
Reinstalling the tumbler on the work bench
WARMING: problems with improper installation of the black cap
Removal, lubrication and reinstallation in the car with special tool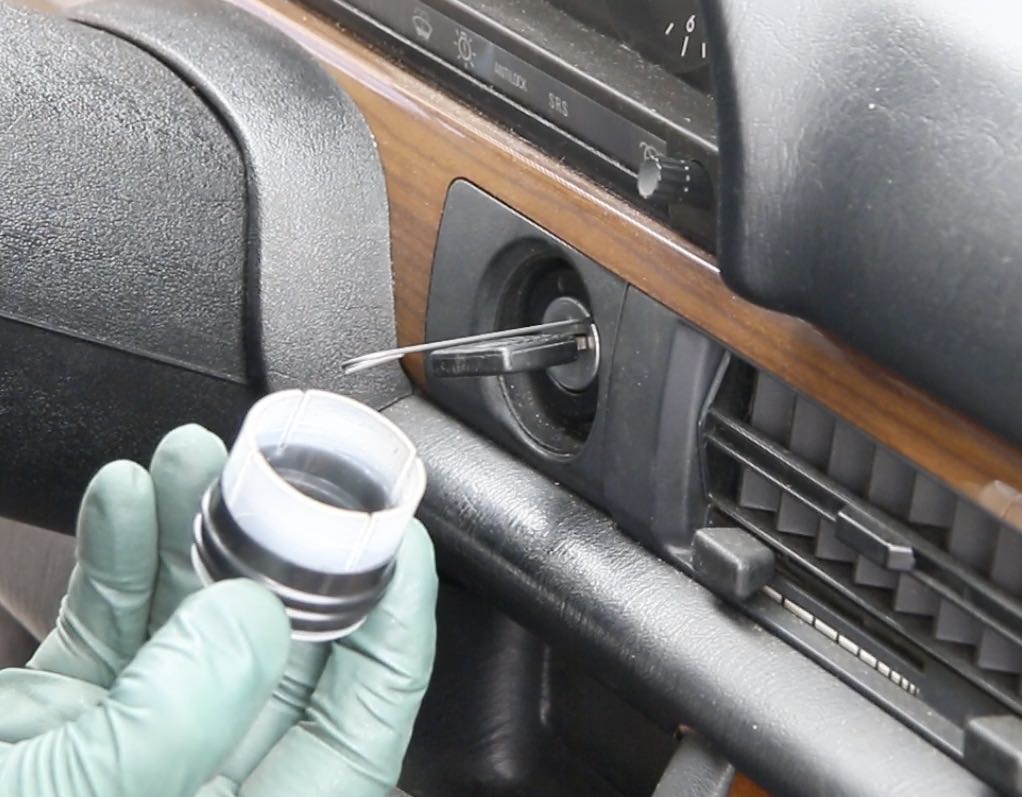 DOES NOT COVER: This video only covers removing the key tumbler, lubricating the parts for long life, and reinstalling it properly back into the steering lock housing. It does not cover removing the steering lock nor does it cover removing or repairing the electrical switch on the back of the lock assembly. If you are having problems in those areas please see related products below for additional resources. 
Total run time  26:00 
GET THIS VIDEO FOR FREE: This video is included at no extra cost when you purchase the screw cap style tumbler tool kit. CLICK HERE TO VIEW
---
How to view this on-demand video:
Once you complete the purchase of this video you will be able to view it immediately when you are logged in and on your personal account page (click on My Account). The video(s) will show up under My Video Manuals. The video is NOT downloadable to your computer or mobile device, but you will be able to view it anytime, from anywhere and from any device as long as you have internet access and you are logged in to your account at mercedessource.com.
Important note: This video manual may or may not include all the information you will need to troubleshoot and/or repair your specific problem/s. Please read the full description carefully to determine if this video is applicable to your year and model and contains the information you are looking for. If not, please refer back to our "Solutions Finder" and enter your chassis number and the specific problem you are having to see if we offer a solution.
Related Products:
---