New bushings will solve the problem and possibly prevent disaster
Concerned about your automatic transmission shifter? If it feels sloppy or rattles it is time to act!  If you don't fix the problem your shifter could pop out of park and have disastrous consequences. This is a common repair that can be done by a beginning D.I.Y. mechanic with Kent's special press tool and instructions.
Problem & Solution
Common among these chassis:
R107
W108 W109
W110 W111 W112 Sedan
W111 W112 Coupe
W113
W114
W115
W116
W123
W124
W126
W201
APPLICATION: For late 111, 113, 108, 109 chassis, all 114 and 115 chassis 220 230 250 250C 280 280C 240D 300D 1968 to 1976, 107 Chassis 350SL 450SL 450SLC 380SL 560SL 1972 to 1989, 116 chassis 350SE 450SE 450SEL 280SE 280SEL 300SD 1973 to 1980, 123 chassis 1977-1985 Models 230 240D 240TD 280E 280CE 300D 300CD 300TD, 126 chassis 380SE/L 300SD 500SE/L 300SDL 420SE/L 300SE/L 560SE/L 380SEC 560SEC 1981-1991, 201 Chassis 190E and 190D 1984 to 1993 and 124 Chassis 260E 300E 300D 300TD 300TE 300CE E320 and E300D 1986 to 1995 and 129 and 140 chassis to 1995.
On all Mercedes automatic transmissions from the mid 1960s up through the mid 1990's plastic bushings were used on both the the shifter lever and the transmission shift arm (as shown). These bushings were made out of a plastic material that deteriorates with age (not mileage). Note: My 1990 300SL with only 100,000 miles had both bushings missing!
When these bushings break or fall out, your shifter will become loose and may rattle. In some cases you may not be able to find the correct gear easily or worse yet not get the shifter into park. This has to be the MOST common neglected and easily fixed item I see on all older Mercedes passenger cars!  You should inspect and replace yours today. The rod is on the left side of the transmission and goes from the transmission to the shift lever along the forward part of the driveshaft. Can you see that the bushing is missing here and the rod is loose  (and will make a rattling noise) in the end of the shift lever!!!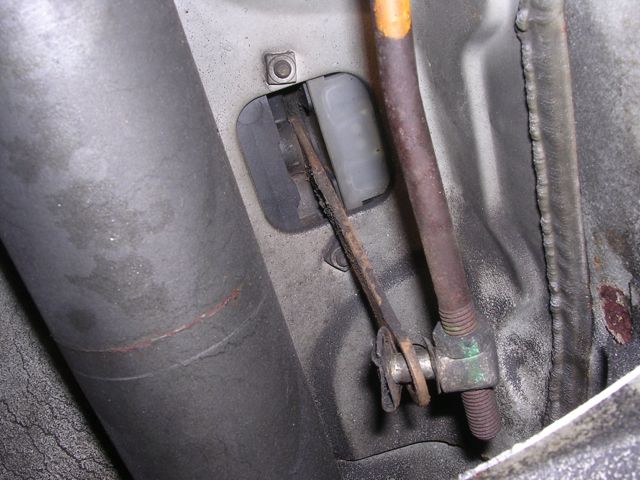 Note how easily the original aged plastic can break and fall out of the lever. The new bushings are made of a much tougher nylon material. You can get under your car and look up into the left side of the transmission well to quickly inspect your shift bushings. If they are yellowish or brown in color just replace them BEFORE they fail.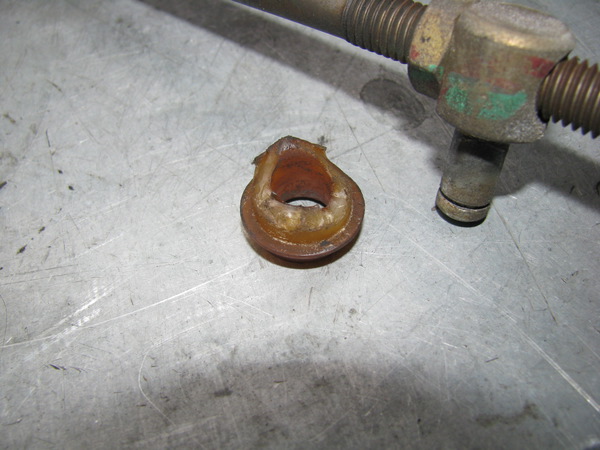 In fact the new bushings are so strong they can be very difficult to install.  I have fabricated a special press tool. Without this tool it is near impossible to install these new bushings - especially if you are trying to do it up in the transmission tunnel.  See related video for a demonstration of this tool. 
In some cases it it best to remove the transmission sift lever so you can install that bushing on the bench. On some models the clearance up in the well can be very tight. Once the new bushing is installed in the lever using the press tool,  you can attach the shift rod and reinstall as shown.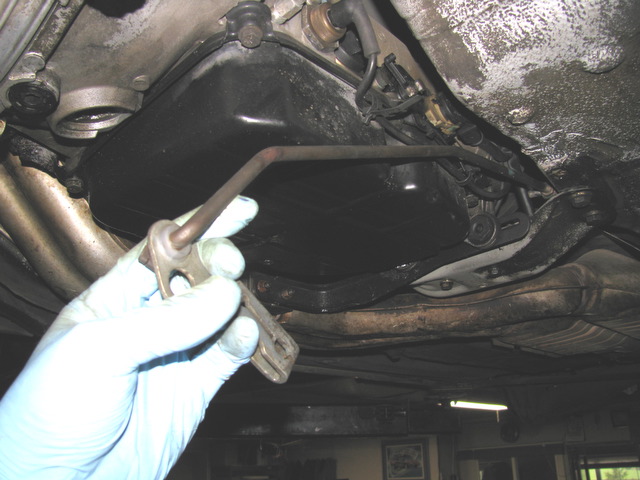 Please see related videos, manuals, repair parts and kits: