This is kit will only work on the ORIGINAL FACTORY AXLES THAT CAME ON THE SL AND BIG S CLASS CARS! Be sure to watch the video below to determine if this kit will work for you!
WARNING: We are finding that people are replacing axles from other models that have different size boots. This kit will ONLY replace boots on ORIGINAL AXLES!! BOOTS PROVIDED IN THIS KIT FOR INNER AND OUTER ARE THE SAME SIZE. AXLE END I.D. is approx 7/8". CAN END OF BOOT I.D. is approx 2 5/8". FITS THE FOLLOWING: Most but not all R107 W116 and W126 -  ONLY those models that use the rear axles with the crimped sealed cans over the flex joints (spider). You must watch the video below and get under. your car and inspect your axles BEFORE ordering.
Most R107 W116 and W126 Complete Rear Axle Rubber Boot Replacement Kit
$126.50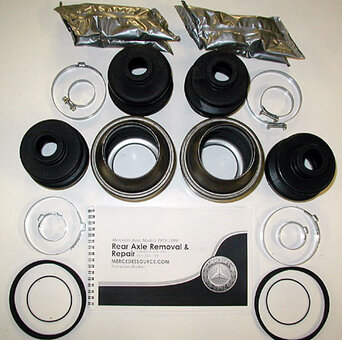 Product Details
Mercedes rear axles of the 1970s and early 1980s are extremely robust. I have seen them go over 400,000 miles with no adverse wine and with their original axle boots still in place. But as these cars age, I am seeing more problems with axle boot deterioration followed by axle spyder joint failure. This kit will help you to replace your old boots (on the axle types that have the sealed can over the inboard spider gear). NOTE: if your spyder joint covers have bolts in them then this kit will not work!
The kit I offer comes with all four boots, clamps, and lube to do both axles. These are quality parts. I also include my manual and a special hand-crimping tool which is necessary to complete crimping the two can halves together during the final assembly. You will get step-by-step picture instructions on how to help you successfully complete this job. 
Special modified tool included free with purchase.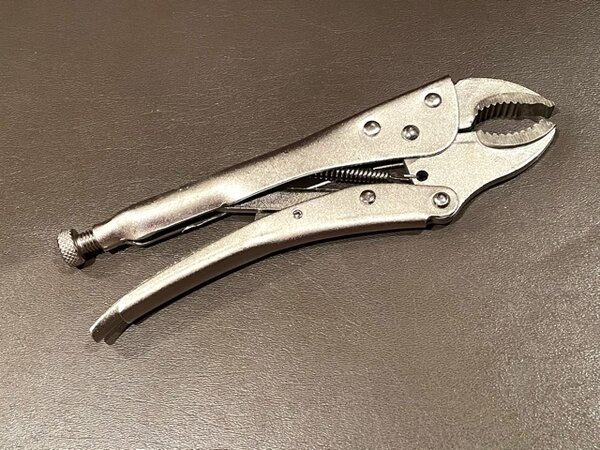 Axle boot sizing explained:
Your axle boot kit will include four rubber boots - all with the same diameter. Some R107 W116 and W126 chassis rear axles have a larger "can" mounted on the end going into the differential. All W114, !115, and W123 have the same size cans on both ends of the axles. If you find your axle has a larger can on the inboard end - do not be alarmed. At first, the rubber boot will appear to be too small but it will fit. The original boot on those larger cans was slightly larger in diameter, but the current manufacturer of these axle boots makes them all the same size. The smaller boot will fit on over the larger can and will work just fine, but they take a little "persuasion" to get them on.  Put some oil or grease on the lip when working with the larger can. Push the boot on one side as far as you can go by hand, and then use a ROUND Phillips screwdriver to pry and "roll" the boot on over the remaining exposed lip of the can.
PLEASE NOTE: As shown in the video above, there is no way to really be sure that your axles are "rebuildable" until they are removed from the car and checked over. If you purchase this kit and then decide you do not want to or cannot rebuild your existing axles you can return it for a refund. However there will be a 15 percent restocking fee and all parts in the kit must be returned, along with the book and the crimping tool, exactly as they were shipped to you.
We also have boot kits available for the smaller W114 W115 and W126 chassis axles. Please see related products below:
Can style rear axle removed from a W126 sedan: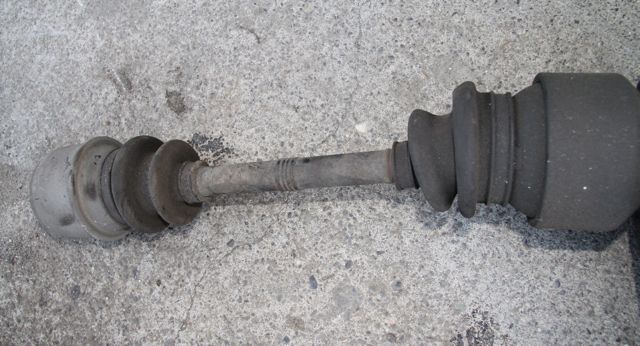 To remove your axles you will need to remove the rear plate on your differential. There is no gasket but does require the correct sealant when replacing. See related products below to order:
Related Products:
---