All 300D 300CD 280E 280CE 1977 to 1985 - 240D vin specific see below - 300TD wagon see notes at bottom of page
Rear Subframe Mount Kit with rubber bushings for both sides complete with mounting hardware as shown. If your Mercedes rear-end is moving around, out of alignment, or sagging slightly, then your forward trailing arm attach point rubber mounts ( bushing )may be worn out or collapsed. This kit fits all 240D from vin 070076 and on. Fits all 300D and 300CD. Pictorial instructions are included at no extra cost.
123 Chassis Coupe Sedan Rear Subframe Mount kit with Instructions
$78.50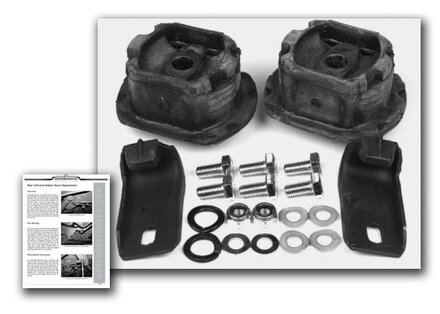 Product Details
SPECIAL INSTALLATION NOTE: These bushing will go in "tight." If you some dielectric silicone grease,  smear a thin film of it on the rubber. As a substitute, you can use warm soapy water on the rubber. Drive into the subframe by placing a block of wood top and use a hammer to tap the bushing into the hole. Once the bolt is started,  tightening it will pull the bushing the rest of the way into the subframe.
NOTE: Does NOT fit 115 chassis 300D from 1976 to 1977.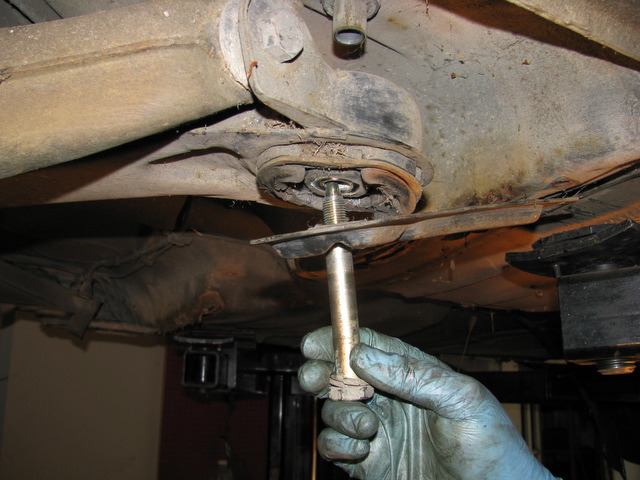 SPECIAL NOTE TO 123 300TD WAGON OWNERS: Mercedes does call for a different part number for the 123 300TD. The part is only available from Mercedes and is very very expensive. Give your dealer a call for a surprise....:-). The mount dimensions are very close to the same. I have been told there is a difference in the hardness of the rubber as well.  I do not have the specs, but I know the sedan mounts can be made to fit and will work - especially if your old mounts are collapsed. Here is what I found when I compared them. They are very close in size and design (but not perfectly identical. The dirty mount was removed from a 1985 wagon, the new mount is the one we carry for the sedans and coupes.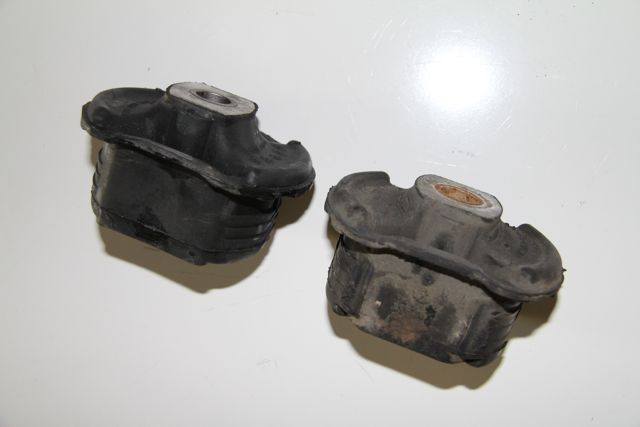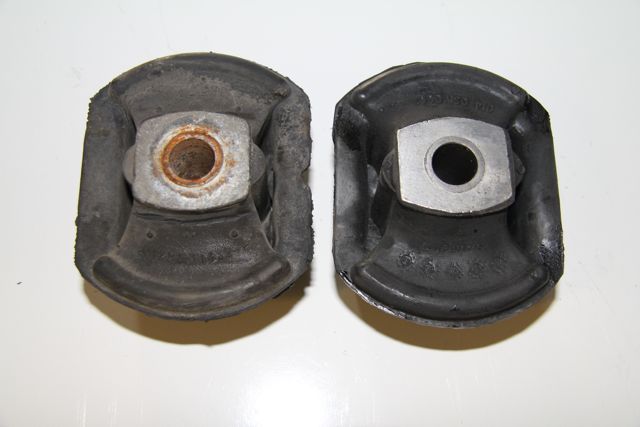 You can order this mount for your wagon but keep in mind we cannot guarantee you will get the ride results you might be expecting (especially if you are a perfectionist). On the other hand if your wagon is sagging badly, mounts are cracked and collapsed and you dont want to spend $$$ then this might be a good option.  If ordered and installed in a wagon they are not returnable. If you want a perfect fit then you will have to order from the dealer.
_______________________________________________________________________________
How to view the PDF digital instructions:
Once you complete the purchase of this product you will be able to download the digital instructions immediately when you are logged in and on your personal account page (click on My Account). Any PDFs will show up under My PDF Manuals. You will be allowed three downloads, so please save the file on your machine for backup.
_______________________________________________________________________________