For all 123 chassis cars sedans, coupes and wagons from 1977 to 1985. Why a glove box manual? Of all the Mercedes glove boxes I have worked with from the early 1950s up to the mid 1990s, the 123 chassis glove box has proven to be the one that needs the most attention AND the most repair. So much so that I have decided this chassis warrants a dedicated repair manual that points out the trouble spots and the tricks I have developed to fix them.
123 Glove Box Maintenance and Repair Guide - by Kent Bergsma
$18.95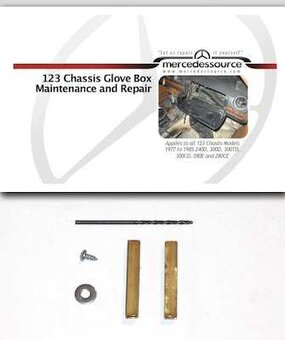 Product Details
Here is what is included:
Adjusting the opening
Gluing the wood
Replacing the bulb
Removing the box
Removing the door
Repairing the door latch assembly
The most common problem is the door will not latch properly or stay closed. I have developed a clever procedure that fixes this annoying problem once and for all. It will require drilling and reinforcing the inside plastic door panel. Included with the manual are the correct drill bit and hardware and complete detailed instructions to make that modification yourself. Your door will stay closed once again!
NOTE: I have found a few cases where the inside plastic door panel has been so badly damaged that a replacement is required for a permanent repair. In that case you will have to find a good used panel or contact Mercedes Benz. We do not carry these inner plastic panels.  I still recommend you make my modification to it before installing a replacement so that one does not break down the road.