Fits most model passenger cars. Ponton, Fintail, Coupes, SLs, W108 109, R107, W116, W114, W115,W123 and W126. Does NOT fit the W201 or W124 chassis
Loose steering or wheels shaking at speed. This can often be worn out tie rod ball joints. The joints can be replaced as a DIY project. Watch the video below to see if this is something you want to take on yourself.
1958 to 1991 Full Tie Rod End Replacement Kit w/ Video Instructions
$94.50
Sale
$75.00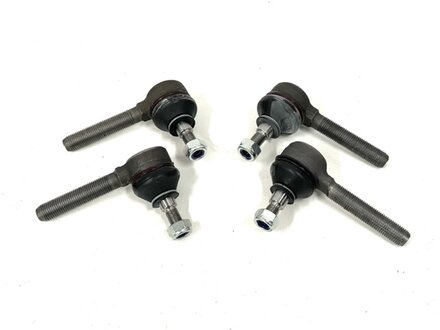 Product Details
This kit includes:
2 right hand thread tie rod ball joint ends

2 left hand thread tie rod ball joint ends

30 minute detailed installation video by Kent Bergsma
This will restore your two OUTER tie rods. These are the parts that usually wear out first. If you are doing this job yourself you wll need to get the car up in the air and remove both front tires. If doing this on the ground use back up safety ( ie Jack stands on both side and leave a floor jack under the car to make sure it does not fall to the ground). Other that a few common hand tools you will need a tool to remove the old ball joints. Just google ball joint removal tool. A good pickle fork and a big hammer usually do the job.
Related Products:
---