ALL parts shown for one wheel ONLY! 450SE 450SEL 300SD 240D 300D 300TD 300CD 280E 280CE 380SE 380SEL
If you need everything for your front hub then this is the best deal. This kit is for ONE SIDE ONLY. Comes with inner and outer wheel bearings, seal, cap, ground clip and pre-load adjusting bolt. Fits right or left side all 116 and 123 up to 1985, and 126 chassis up to 1984 ONLY (without ABS). These are VERY common wear items on all older chassis that I see come into the shop. Replace at 200,000 miles. We also sell the bearings individually if you do not need the entire kit. List price is $89.00.
116 123 126 Chassis Front Wheel Bearing Replacement Kit - All Models
$37.50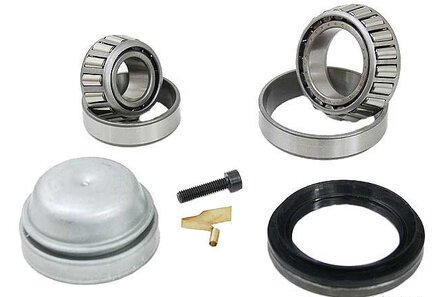 Product Details
If you would like information on how to remove the front hub to get to the bearing assembly refer to my Brake Component Manual. Sorry, but no specific instructions available for the actual replacement of the bearing. Unless you have the proper tools plan to take your hub and new parts to a machine shop to have the races pressed in place.