Know what to look for and understand the parts you will need
Applicable to all 126 sedans and coupes from 1981 to 1991. This includes the 380SE 380SEL 380SEC 300SD 500SEL 500SEC 300SDL 420SEL 560SEL 300SE 300SEL and 350SD.Front and rear suspension overhaul is almost always left until one has fixed everything else on the car. We know that most owners can live with some looseness in the suspension, especially when you consider the age of the 126 chassis. But if you want to restore that great Mercedes factory feel and ride (that we all love!) there is no short cut but to replace all the rubber and metal wear parts in your front suspension. Here is an example. Pictured is the most common problem we see on 126 fronts end. When the support rod ball joint wears out ( see # 13 below ) you will experience front end clunking noises when driving over rough ground or when breaking to a stop. 
Problem & Solution
Common among these chassis:
W126
We have tried to sell front end rebuild kits, but in many cases the owner had already replaced one or more items or needed parts not included. We finally decided to put together this pictorial reference parts guide and create individual links to all the parts you might need. We know that different vendors often call the parts by different names which makes it even more confusing. We offer you a picture and a number reference to minimize this confusion! Hopefully, this information will give both clarity and motivation to tackle a front suspension rebuild. CLICK ON ANY LINK BELOW the image to view FRONT suspension part details and pricing: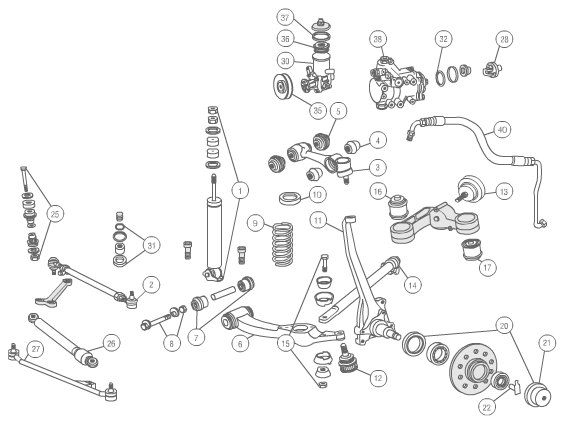 Left and right lower ball joints (same part 2 required) #12   Common Symtoms: High pitched squeal when turning.
Upper control arms with ball joints (right and left required) #3   Common Symtoms: Looseness and clunking
Upper control arms rubber bushings #4   Common Symtoms: Front end shake and looseness
Steering Tie Rods (Replace as a set of two) #2   Common Symtoms: Loose steering
Wheel bearing kit #20   Common Symtoms: Howling noise especially when turning - wheel shimmy
Lower Support / guide rod mount (same part 2 required)  #13   Common Symtoms: Clunking when braking
Lower control arm to frame inner bushing kit #7   Common Symtoms: Wandering front end - excess tire wear
Lower control arm Eccentric bolt kit #8   Common Symtoms: Difficult to maintain front end alignment
Guide rod to lower control arm mount kit #15   Common Symtoms:Clunking or looseness when braking
Guide rod #14   Common Symtoms: Bent from accident
Idler arm bushing repair kit #25   Common Symtoms: Looseness and sqweeking in steering
Front shock absorbers (replace as a set of 2) #1   Common Symtoms: Bouncing front end - diving while cornering
Center Steering Drag Link Rod #27   Common Symtoms: Looseness in steering
Steering shock #26   Common Symtoms: Steering feels unstable
Rebuilt Steering Gear Box
Need a complete Kit?  Save $$$!
To view our complete 126 lower front suspension kit? See related products