Parts breakdown will help you find what you need fast
Front suspension overhaul is almost always left until one has fixed everything else on the car. We know that most owners can live with some looseness in the suspension, especially when you consider the age of the 123 chassis. But if you want to restore that great Mercedes factory feel and ride (that we all love!) there is no short cut but to replace all the rubber and metal wear parts in your front suspension.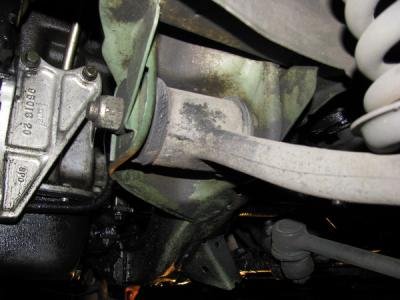 Problem & Solution
Common among these chassis:
W123
We have tried to sell front end rebuild kits, but in many cases the owner had already replaced one or more items or needed parts not included. We finally decided to put together this pictorial reference parts guide and create individual links to all the parts you might need.
We know that different vendors often call the parts by different names which makes it even more confusing. We offer you a picture and a number reference to minimize this confusion! Hopefully, this information will give both clarity and motivation to tackle a front suspension rebuild. The parts LINKS listed below fit all 123 sedans, coupes and wagons from 1977 to 1985. Just click on the part of interest to order:
Left and right lower ball joints (same part 2 required) #9
Upper control arms with ball joints (right and left required) #143
Upper control arms rubber bushings #199
Steering Tie Rods (Replace as a

setof

two) #215
Wheel bearing kit #137
Lower guide rod mount (same part 2 required)  #75
Lower control arm to frame inner bushing kit #134
Lower control arm Eccentric bolt kit #190
Guide rod to lower control arm mount kit #140
Guide rod #100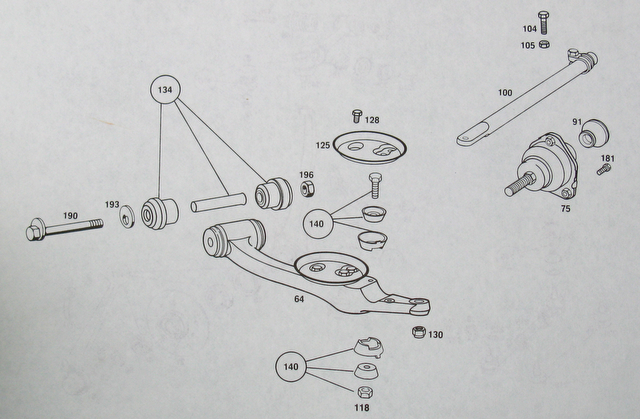 Idler arm bushing repair kit 305
New

Bilstein

steering shock absorber #285
Center Steering Link Rod #272
Rebuilt Steering Gear Box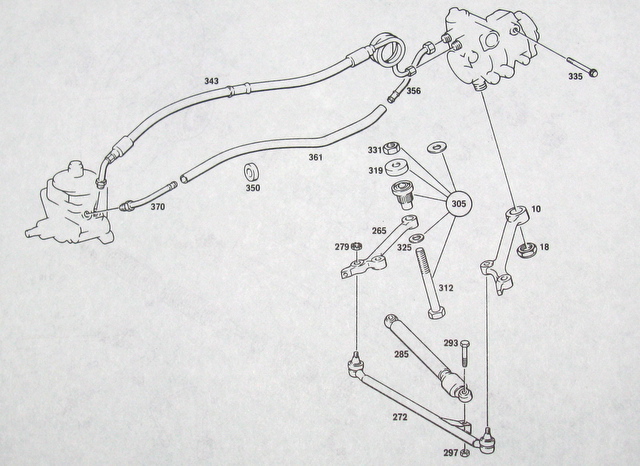 The parts containing metal ball sockets are wearing out due to high mileage. The parts made out of rubber are just failing due to age. If you plan to keep your 123 and you want it to restore that tight and responsive front end feel, you should consider a front suspension overhaul.

The above drawings will help you plan what parts you need to replace. If you want a diagnosis, I recommend you take your car to a good front end shop and request a front end alignment and complete inspection. Good front end shops will not even do an alignment if they find worn out joints and bushings. They will give you a report of the parts that need replacing. Ask them if they will do the work if you supply the parts.

For safety reasons I do not recommend you replace loaded front end parts yourself without the proper equipment and experinence. By loaded I mean those parts that are under tension from the front spring. Leave this work to the pros. They have the tools and the expertise to replace these parts quickly. Prices may surprise you and in the end you have to get a front end alignment anyway.
If your whole front suspension is worn out we off a money saving lower front end rebuild kit. Look below to order.
IMPORTANT: If there are any other parts you need while you are doing the suspension work, ie brakes, wheel bearings, flexible brake lines (highly recommended), shocks, etc., we highly recommend you replace these at the same time you do the front end repair.