V8 ENGINES ONLY (with electronic fuel injection) EFI. Will not work on 6 cylinder engines (MFI). Complete with new fuel pump, filter, adapter fittings, all new fuel hoses, new clamps, new mounts and complete detailed video instructions
Since new original style pumps are no longer made, this is the best way to finally fix your old fuel pump leaks and poor performance. This kit is designed specifically for the W108 and W109 small V8 sedans. If you have an EFI R107 350SL or 450SL from 1972 to 1975 we have a different kit available. See related products below. Watch the video as Kent will explain the reason for this kit and how it looks installed in a 300SEL 4.5.
1970 to 1973 W108 W109 3.5 and 4.5 Fuel Pump Conversion Kit
$332.00
SKU:
GEG-10845FUELPUMPKIT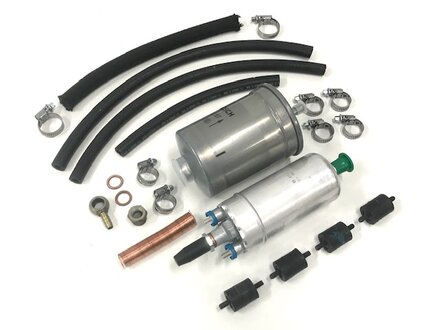 Product Details
The kit contains the following:
New special sourced low-pressure Bosch Fuel Pump 
New fuel filter
All new fuel hoses
Required fuel hose adapter fittings
Special anti-kink fuel hose coil wire
All new fuel hose clamps
4 new rubber mounts
Full video instructions
Kent's highly detailed 37-minute video instructions will show you how to do the following: Determine if your original pump needs replacing, drain the fuel out of your fuel tank, remove the old pump assembly, take it apart on the bench and install the new pump, filter, and hoses, and properly reinstall the complete assembly back into the car. If your original fuel pump has not failed and is working fine now be forewarned. It will not last forever and this replacement pump not be available forever either.
This is what it looks like installed in Kent's 300SEL 4.5
Here is what it looked like before the conversion began: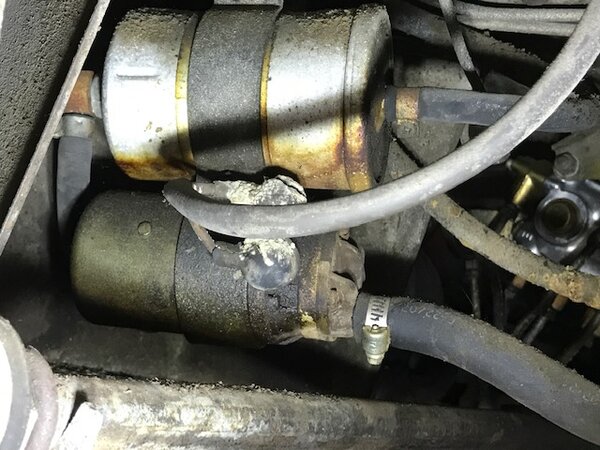 Related Products:
---