This hardware and supply kit along with Kent's 27 minute video instructions will help you fix this problem permanently!!
Kent jokingly mentions this has become a late W123 epidemic! You see this problem happening on all late model 240D, 300D, 300CD, and 300TD wagons. Even if you purchase new plastic strips from Mercedes Benz the repair will not last because the plastic strips are only secured tightly at the two outer ends of the bumper. Kent finally decided he had to come up with a solution - a simple and effective repair that would give lasting results. Watch the video below and he will explain the problem and the challenge. This applies to both front and rear U.S. bumpers.
1981 to 1985 W123 Sedan Coupe and Wagon Loose Bumper Rubber Repair Kit
$28.95
SKU:
BDP-123BUMPRUBBERKIT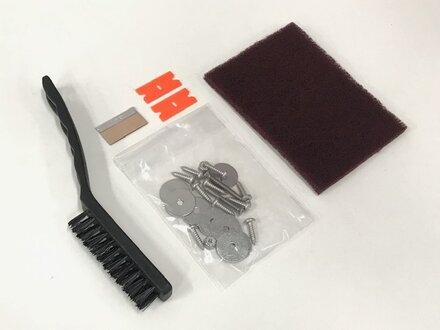 Product Details
This kit includes the following:
26 piece assortment of STAINLESS STEEL hardware required
Scotchbrite pad to be used for cleaning the bumper
Nylon brush to help clean the plastic strips
1 safety razor and 2 plastic razors to help remove old glue
Lengthy and detailed video instructions showing multiple methods on how to approach the repair
IMPORTANT: if you have any evidence of rust under your W123 we recommend you remove the two side rubber pieces and treat the metal bracket and anybody surface rust with Miracle paint. How to remove them is also included in the video instructions. If you do not treat this "hidden" rust you could be dealing with some large body rust through in the future. See related products below to purchase our Miracle Paint. 
Related Products:
---