Fits Most BUT NOT ALL models. Please read full description and watch video before ordering. . W202, Late R129, Late W140, W210, Early W220, W203, and ML320
If your shift lever feels loose or is rattling, that is an almost sure sign that a bushing (or both)on the transmission shifting lever or the console shifter has disintegrated and fallen out. New replacement bushings are cheap, but just try to get one installed in on some of the levers on some up alongside the transmission tunnel or below the shift lever itself. Due to the age of these cars, the bushings are now failing at an alarming rate. It is much better to replace them BEFORE they fall out! Watch the YouTube video below. Kent will explain the challenges in dealing with different bushings and how the different tools in this kit are used. Ryan will explain how much time and grief you can actually save by using these tools. 
1996 to 2003 (Some to 2006) Automatic Transmission Shift Lever New Bushing Install Kit
$76.95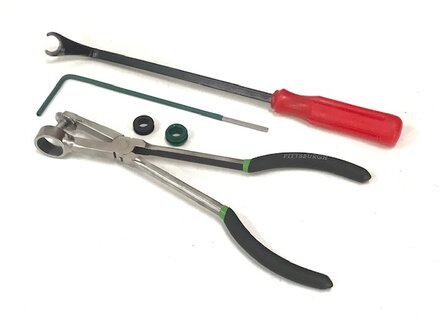 Product Details
Watch the video above as he demonstrates installing a new bushing in an ML320. This model is tough because of the driveshaft running alongside the transmission. This will make you a "believer"
The kit includes the following:
Custom shift bushing tool for green hard nylon bushing
Special clip removal and installation tool
Long tool for installing the soft narrow busing
One Green hard bushing
One soft narrow bushing ( black or green)
12-minute free on-demand video instructions
DISCLAIMER: If you have a 1996 to 1998 or a 2003 to 2006 model you must check your bushings before ordering. We are not able to determine exactly which bushing or bushings are used on which end of the shift rod on every model. Looks like Mercedes tried to really mix it up. Since we can not guarantee that the two bushings will work in every model during those years we ask that you check before ordering this kit. 
Green bushing measures: ( In the groove) 15.4 mm OD, 9.46 mm ID, width 9.90 mm
Related Products:
---