Fits 115 and 123 220D and 240D with 4 speed manual transmission. If your shifter feels loose or spongy or even clanks when you shift it is time for new bushings. There are six total. 3 large rubber bushings on the transmission arms and 3 plastic nylon bushing for the shift lever arms.NO INSTRUCTIONS INCLUDED.
220D 240D Manual Transmission Shift Rod Bushing Kit
$15.75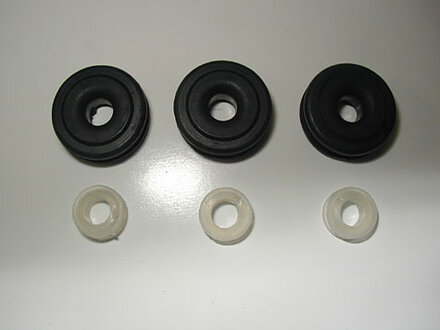 Product Details
The new style rubber bushings replace the old bushings with the metal ring. You will have to drive the old metal ring out of the large hole on each transmission shift arm. Once the ring is out you can push in the new all rubber bushing. This new style will take more abuse and last longer than the original
You will be very happy with the results. Your shifts will be smoother and not as notchy. It will shift like you remember in days of old. Note: While changing bushings I also recommend you change to a synthetic manual transmission lube. We are now carry a quality Lubro Moly product. It will also help your transmission shift smoother.