Covers 1965 to 1995 110, 111, 112, 108, 109, 107, 114, 115, 116, 123, 126, 201, 124, and 129 Chassis master cylinder, pads, rotors, calipers and flexible brake hoses.
Brake Systems Troubleshooting Inspection and Repair by Kent Bergsma
$19.50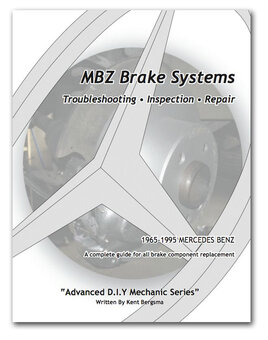 Product Details
If you have always wanted to know everything related to fixing the components of your brake system this is the manual you should have. Some troubleshooting procedures and repair tips can not be found in any other manual - including the factory manuals. Loaded with pictures, tips, warnings and cautions. Even includes detailed information on troubleshooting rare and annoying brake problems, rebuilding brake calipers, setting bearing preload, as well as recommendations on easy wheel mounting on 200D, 230, 220, 220D, 240D, 250, 280, 280SE, 230SL, 250SL, 280SL, 350SL, 450SL, 450SE, 450SEL, 300SE, 300SEL, 300D, 300CD, 300TD, 300SD, 300SDL, 350SDL, 380SL, 380SEL, 420SEL, 560SEL, 190E, 1909D, 300E, 300CE 300TD, etc. As seen on Cherry. CLICK HERE to watch the full video series on Kent's R107 rolling restoration.
Printed in an 8.5x11 format - 61pages and bound with a smudge resistant cover.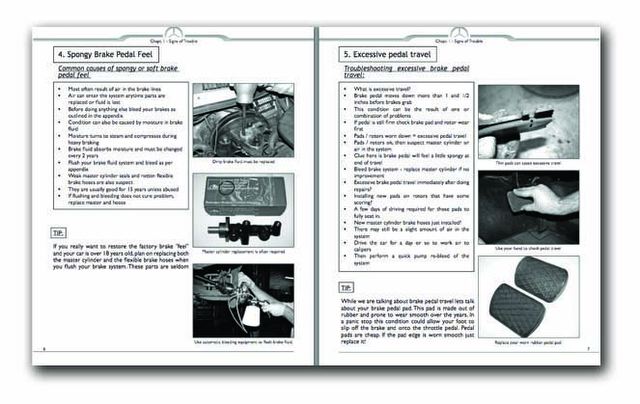 Manual covers the following topics (Table of Contents):
Chapter 1: Common Signs of Brake Trouble
Chapter 2: Component Inspection Guidelines
Chapter 3: Brake Pad Replacement
Chapter 4: Flexible Brake Hose Replacement
Chapter 5: Brake Master Cylinder Replacement
Chapter 6: Brake Caliper and Rotor Replacement
Chapter 7: Emergency Brake Adjustment and Repair
 
We also offer a separate procedure manual on Brake bleeding, listed below in related products.
Related Products:
---