Common Rear Exhaust leak troubleshooting, component replacement and hole patching DIY techniques
How can you tell if you have a hole or leak in your exhaust system? What are the symptoms? Can the leak be patched? When will you have to get either a new center muffler or rear muffler or pipes or all three? Can you replace the mufflers yourself and what are the tricks?
Center and Rear Muffler and Exhaust Pipe Replacement and/or Repair - On Demand Video
$12.99
On Demand Video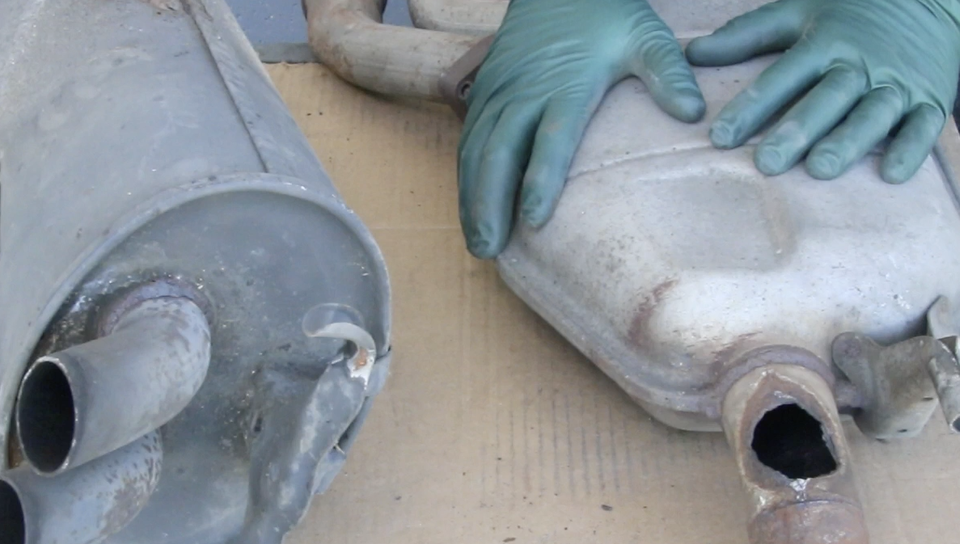 Product Details
Video Preview:
In this video Kent will go over all the above for the DIY mechanic. This is something you can do at home with just a few inexpensive tools and supplies. You can save $$$ hundreds by doing it yourself.
This on demand video covers the following:
Symptoms of leaks and what to listen for
Locating the source of the leak or leaks
Visual inspection
Why you should fix an exhaust leak
Determining if the leak is "patchable" 
Doing the repair in your own driveway
Safely jacking up the rear of the car
What tool you will new to remove the old exhaust parts
Tricks to getting the old pipes separated from the mufflers
Buying new parts
What parts you don't want to miss ordering
What product to use to seal small leaks at the pipe joints
Types of leaks that can be patched.
Step-by-step procedures on patching small holes in rear mufflers and pipes
Proper use of Miracle Paint
Examples of strong repairs
How long with patch repairs last
NOT COVERED: This video does not cover any aspect of welding in a new muffler system. It also does not cover trying to repair or replace the catalytic converter (s). These get too hot to patch successfully and there are other emissions related issues that much be addressed when dealing with a bad "cat."
Total run time: 48:00
---
How to view this on-demand video:
Once you complete the purchase of this video you will be able to view it immediately when you are logged in and on your personal account page (click on My Account). The video(s) will show up under My Video Manuals. The video is NOT downloadable to your computer or mobile device, but you will be able to view it anytime, from anywhere and from any device as long as you have internet access and you are logged in to your account at mercedessource.com.
Important note: This video manual may or may not include all the information you will need to troubleshoot and/or repair your specific problem/s. Please read the full description carefully to determine if this video is applicable to your year and model and contains the information you are looking for. If not, please refer back to our "Solutions Finder" and enter your chassis number and the specific problem you are having to see if we offer a solution.
Related Products:
---