You MUST HAVE a version 3 pressure tester ( either diesel or MFI) to make this kit work on most 1977 to 1993 Bosch Mechanical ( NOT ELECTRIC) fuel injectors
We know that many of you own multiple Mercedes, including both gas and diesel models. If you own one of Kent's fuel injector pressure testers you no doubt will want to test all your applicable mechanical fuel injectors in both types of older engines. So we have a number of options available that will allow you to purchase different add-on or combo kits.  
CIS Gas Fuel Injector Cleaning and Testing Conversion Add-On Kit
$62.95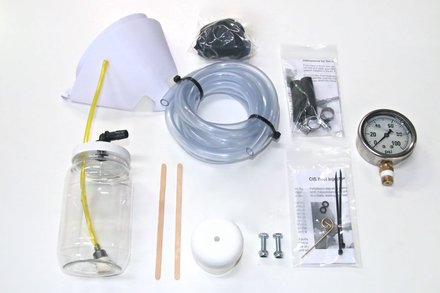 Product Details
If you already own one of our VERSION 3 (released early 2019)  diesel or MFI gas testers you can purchase this CIS "add-on" kit or one of the other ones we have listed below in related products. Or, if you do not have an injector tester you can now purchase our complete "collection" (combo) kit which includes the diesel pressure tester, the MFI injector add-on kit, and the CIS injector add-on kit. Just click on that item shown in the related products below.
To learn more about the specific operation and application of each of Kent's injector pressure testers just click on any one shown below to learn more:
Related Products:
---