NEW VERSION 3 release. See related products below for application notes.
AVAILABLE NOW! For most Mechanical Fuel Injected Mercedes Gas Engines 1959 to 1972. Would you like to find out how well your old (1959 to 1972) mechanical gasoline/gas fuel injectors are working? They could be spraying so much fuel that the result could be major damage to your engine! Now you can do it yourself at home with our custom bench mount hand pump pressure tester and cleaning kit. 
Bosch Mechanical Fuel Injector (MFI) Tester and Cleaning Kit
$236.00
Product Details
We recommend you watch Kent's youtube videos to give you the background on this tester and to see first hand how it works.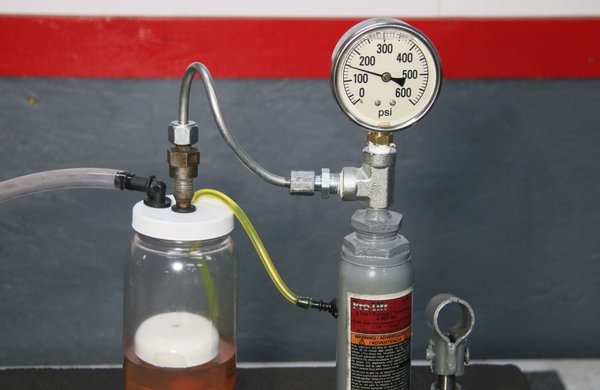 Testing 280SL fuel injectors: http://youtu.be/nmkiBz65Wjs
Testing 300SEL 6.3 fuel injectors :  http://youtu.be/za-5sW2QOIo
Fuel Injector cleaning success: http://youtu.be/Fb3fHKiVF4o
The kit includes the following items:
Bench mount pressure tester with 600 PSI gauge
Special hard fuel line to bolt up to an MFI fuel injector ( mechanical fuel injection)
Custom made fuel reservoir and fume capture bottle with pickup filter
Injector spray diffuser that goes into reservoir bottle
2 bolts to mount tester
3 pairs of nitrile gloves
2 paint strainer for filtering fuel
Tip cleaning tools (not shown)
A 9 to 10foot length of clear plastic vinyl hose for cleaning (not 12 feet as mentioned in some videos)
Video instructions that include setup and function (watch this video first)
Video instructions that include cleaning and testing
Instructions for removing the fuel injectors from your engine are not included. That is a very straight forward job. 
PLEASE NOTE: This tester will also work with older Porsche and other European cars that used the Bosch mechanical fuel injection system from the 1960's. This kit will work on the fuel injectors from the 6.3 V8 but it WILL NOT WORK on the 3.5 and 4.5 V8 engines (those used electronic fuel injectors).
Related Products:
---