How to know for sure how well your gas fuel injectors are performing (1976 to 1993 CIS ONLY)
If you think CIS fuel injectors can just be ignored, think again. Sure, your gas engine will continue to start and run "ok", but you may find that it is not producing the power it once did nor the fuel mileage it once delivered. You may also notice that it does not start or idle as smoothly as it once did. Maybe it starts up and then quits the first time you start it cold. Or, maybe it will not start hot until you let the engine sit for a while. These can be signs of ill spraying or poor sealing fuel injectors.
CIS Gas Fuel Injector Removal, Cleaning and Testing - On Demand Video Manual
$12.99
Get it for Free! This is available as a free add-on item. Review the product details for bundle options.
On Demand Video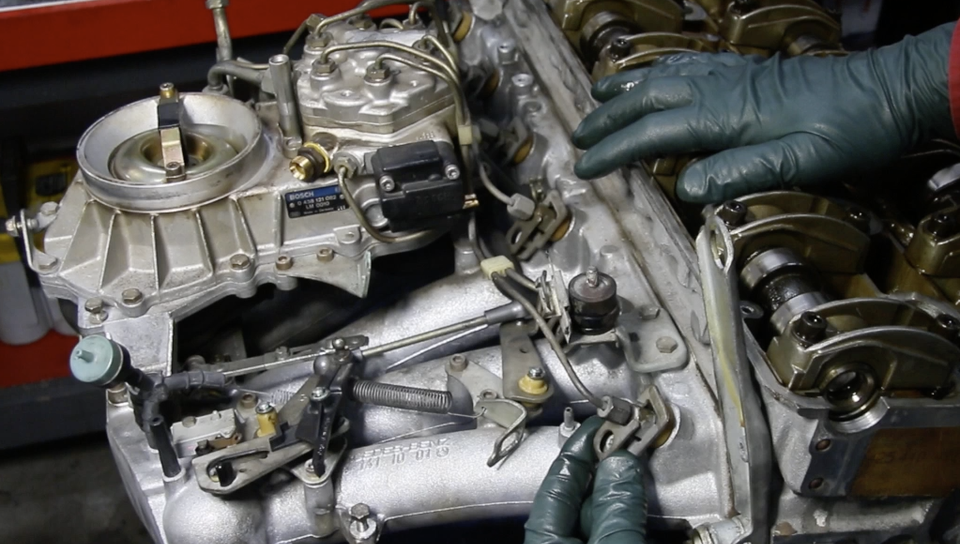 Product Details
NOTE: This video is available FREE with the purchase of our CIS fuel injector tester. See related products below:
The only reliable and safe way to know for sure how they are performing properly is to remove them from the engine and bench test them with a pressure tester. We know there are some that will claim you can test them out of the holders while the engine is running. We strongly discourage this. Doing so can be quite dangerous as atomized gasoline can easily ignite with the smallest spark. A pressure tester such as the one we sell here can also be used to clean the internals of the injectors if they fail the initial pressure tests. In many cases, but not all, cleaning with pressure strokes and the proper cleaner can restore an injector to proper working condition.
In this step-by-step video (using a 1990 M104 6 cylinder CIS gas engine) Kent will explain and demonstrate the following:
Importance of properly working CIS fuel injectors

How to recognize if your engine has CIS injection system
How easy it is to remove this type of fuel injectors
Diagnosing potential air leaks at the injectors
Types of seals used to prevent air leaks
Removing the old hard seals from the injectors
Two different types of injectors shown
What you can and can not do to service these injectors
Where to do the testing
Type of fuel to use
Safety precautions
How the tester is set up
Other preparations for testing
Live tests showing results of all six injectors
Recording your results
Setting up to clean the injectors
How to pump clean each injector
Results shown
3 things to look for with testing for a good injector 
How to get a balanced set of injectors
Showing what a new injector can do
Tips on installing the injectors back into the engine
Ongoing service recommendations
PLEASE NOTE: Testing and cleaning CIS injectors for 4, 6 or 8 cylinder engines are done the same way. The type of holders used and precisely how they are removed form the different engines from 1976 to 1983 can vary. General principles are the same but the actual details on removing the fuel injectors can vary slightly from engine to engine. This video only shows details related to removing the CIS injectors from the 1990 to 1993 M104 engines with CIS. If you have an M103 the holders and procedures are almost exactly the same. Some models of V8 engines have different types of holders so the removal sequence will be different from what is shown in this video.
Step-by-step injector replacement is not show as this is very straightforward once you have removed your fuel injectors. Kent does share tips on how to successfully install the new seal and replace the injectors back into a M104 engine. 
Total Run Time: 32:09
---
How to view this on-demand video:
Once you complete the purchase of this video you will be able to view it immediately when you are logged in and on your personal account page (click on My Account). The video(s) will show up under My Video Manuals. The video is NOT downloadable to your computer or mobile device, but you will be able to view it anytime, from anywhere and from any device as long as you have internet access and you are logged in to your account at mercedessource.com.
Important note: This video manual may or may not include all the information you will need to troubleshoot and/or repair your specific problem/s. Please read the full description carefully to determine if this video is applicable to your year and model and contains the information you are looking for. If not, please refer back to our "Solutions Finder" and enter your chassis number and the specific problem you are having to see if we offer a solution.
Related Products:
---