For sealing all Diesel mechanical injectors 1961 to 1993
We receive a large number of emails from customers complaining about small fuel leaks at the fuel injector housing (coming out the threads between the two halves)and how best to seal them. To fix this high pressure leak requires taking the injector apart and "lapping" the mating surfaces. Seal is by metal to metal contact. There is no o-ring or gasket inside the injector.
Diesel Fuel Injector Anti Leak Kit w/ Instructions
$9.75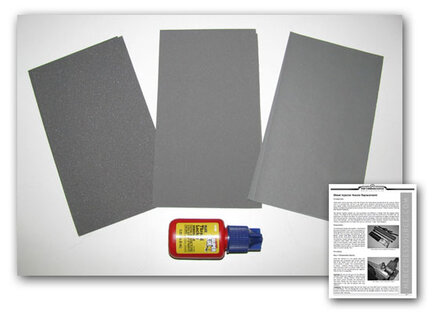 Product Details
This kit includes three grades of fine sandpaper and complete lapping instructions. In some cases of very slight fuel seepage a special anaerobic sealant can be used to stop the leak without taking the injector apart. We include a small tube of this special sealant along with tips on how to use it successfully!
This little inexpensive kit is guaranteed to save fuel and put a smile on your face! As long as you have your injectors out you should thoroughly clean them and test them for pressure and spray. See related products below for more information.
_______________________________________________________________________________
How to view the PDF digital instructions:
Once you complete the purchase of this product you will be able to download the digital instructions immediately when you are logged in and on your personal account page (click on My Account). Any PDFs will show up under My PDF Manuals. You will be allowed three downloads, so please save the file on your machine for backup.
_______________________________________________________________________________
Related Products:
---