For 1970 to 1975 350 and 450 Models with D-Jetronic Fuel Injection. Includes tools, and instructions. FREE valve cover gaskets included. This is a NEGECTED maintenance item!
Why do you need to do this?  Valve clearances are supposed to be adjusted on these early V8s every 10,000 miles. You can imagine why this does not get done! Add to the fact owners can not find the right information or tools and it makes neglect even worse Why not on later model years? In 1976 Mercedes introduced hydraulic self-adjusting lifters ( along with K-jectronic fuel injection). Kent decided to combine these two special tools in one kit because most of the time you will need both. You will receive a bonus set of new valve cover gaskets and free instructions on how to do this job yourself.
Early 3.5 and 4.5 Complete Valve Clearance Adjustment Kit
$128.00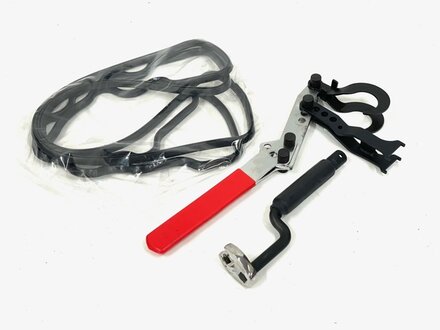 Product Details
Note: Tools, parts and videos can be purchased separately below. 
Related Products:
---