4, 6 and 8 cylinder engines M129, M130, M180, M114, M115, M116 and M117
If you own one of the early Mercedes overhead camshaft engines from the mid-1950's up to the mid-1970s that have mechanical (non-self-adjusting) lifters this is a MUST HAVE tool! You need to be adjusting the valves on these engines every 12,000 to 15,000 miles if you want them to start and run at peak efficiency. In 9 out of 10 cases the first time you go to adjust the valves you will not be able to turn the ball adjusters with an open-end wrench without rounding the edges. If those adjusters are stuck you will need to remove the rocker arm and use a socket to break the adjuster loose. Then you can put the rocker arm back on and adjust the valve clearance properly. So this really is a VALVE ADJUSTING TOOL, not just a spring compressor! This is a "generic" non-Mercedes valve adjusting tool that we specifically modify in our shop to work on older Mercedes gas engines. Watch the video below to learn more:
Mercedes Early Gas Engine Custom Valve Spring Compressor / Valve Adjusting Tool
$78.00
Product Details
With the purchase of this tool, you will receive a free on-demand video showing why, how and when you would need to use this tool. Keep in mind this video is not a complete step-by-step procedure on adjusting the valves. That information is readily available in any factory or aftermarket manual. This video covers problems you may run into that are not covered in most manuals. ​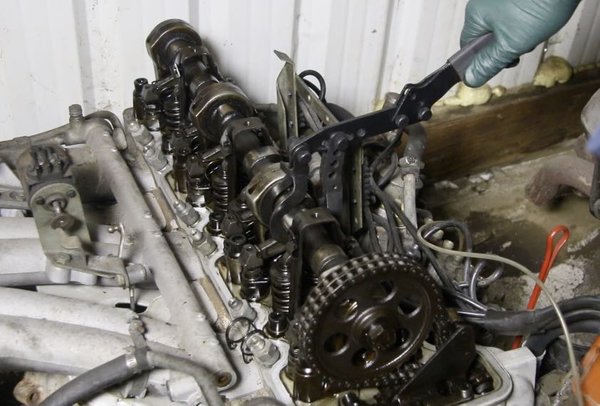 When adjusting the valves on the early 4 and 6 cylinder single overhead cam engines you are going to need a very good tool to move those ball socket adjusters. Keep has made a few custom crows foot wrenches but they tend to spread the jaws over time. Finally, Kent found a heavy duty custom socket wrench that he really likes. Note: This socket will NOT WORK on the early V8 engines after 1976 that have adjustable lifters nor on the twin cam M110 6 cylinder engines. 
Related Products:
---