How to open up, inspect, and test the internal workings of your 1978 to 1987 T3 Waste Gate
A properly functioning and adjusted waste gate is critical to the proper operation of your early turbo charged Mercedes diesel engine. If damaged or not working properly your engine may not be developing its full power or the turbo could be over boosting your engine leading to overheating and possible engine damage.
Garrett T3 Diesel Turbocharger Waste Gate Inspection and Testing - On Demand Video
$7.99
Get it for Free! This is available as a free add-on item. Review the product details for bundle options.
On Demand Video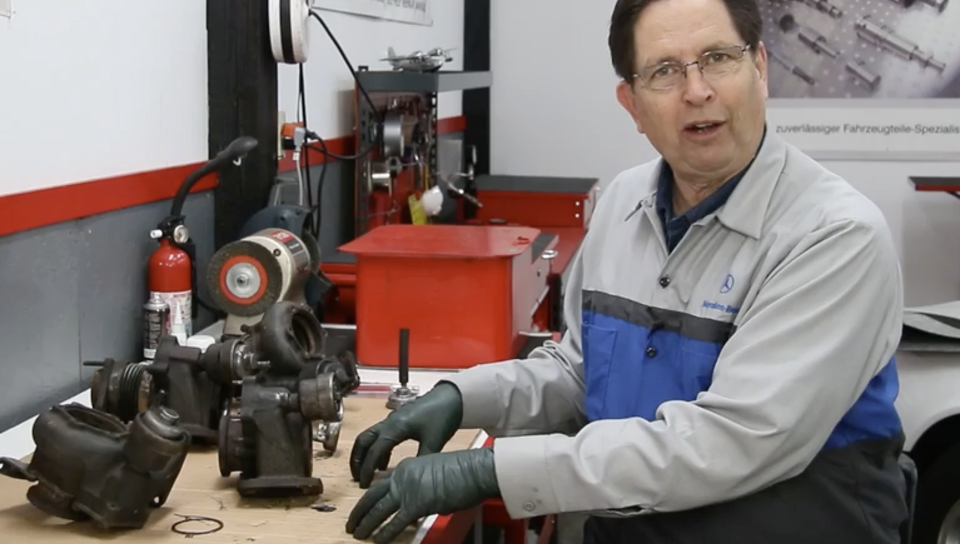 Product Details
Video Preview:
In this video Kent will walk you through the function of the waste gate, how it is put together, how to open it up, and how to look and test for possible problems. Here is a summary of the details covered in this video:
On the bench inspection
Close up views
Where it is located on the housing
How it comes apart
Tools needed
Removing the spring ring that holds the cover on
Location of the diaphragm
Removing the diaphragm and function of the lock nut
Key problems you may encounter with the waste gate
How the waste boost pressure is "dumped"
How the valve is removed
Problems with the valve
How the waste gate housing is attached to the turbine housing
Possible problems with both the waste gate and the turbine housing
Description and location of each of the key components

Avoiding broken bolts in the turbine housing

Why excess oil in the waste gate?
How to test the function of the valve
Reinstalling the waste gate diaphragm
How the waste gate bleeds off excess pressure inside
How to prevent the valve from staying open too long leading to power loss
Sample of a frozen valve in one turbo
What happens if the valve is stuck shut
Summary of the two most important things to check
APPLIES TO THE FOLLOWING MODELS: This video applies on to the OM617 and OM603 Turbo diesel engines built from 1978 to 1987 (300SD, 300D, 300TD, 300CD, 300SDL) that come with the Garrett turbocharger. It DOES NOT apply to those models that have the KKK turbo charger. To learn which turbo you have visit our tech help page and type KKK in the solutions finder.
NOT COVERED: Boost pressure testing and adjusting the waste gate to factory standards while test driving your diesel is NOT covered in this video. This information is covered in Kent's manual that is included with our boost pressure test kit. See related products to learn more about the unique kit.
Total Run Time: 16:02
---
How to view this on-demand video:
Once you complete the purchase of this video you will be able to view it immediately when you are logged in and on your personal account page (click on My Account). The video(s) will show up under My Video Manuals. The video is NOT downloadable to your computer or mobile device, but you will be able to view it anytime, from anywhere and from any device as long as you have internet access and you are logged in to your account at mercedessource.com.
Important note: This video manual may or may not include all the information you will need to troubleshoot and/or repair your specific problem/s. Please read the full description carefully to determine if this video is applicable to your year and model and contains the information you are looking for. If not, please refer back to our "Solutions Finder" and enter your chassis number and the specific problem you are having to see if we offer a solution.
Related Products:
---