A step-by-step procedure for properly removing the head from the engine
In this on demand video you will get to watch Kent remove the cylinder head from his 1990 R129 300SL with the 104 twin cam straight 6. This is a highly detailed video on how to do it without making the mistakes that many others have made. The job must be done with understanding and great care. Kent's step-by-step instructions should guarantee success! 
M104 Gas Engine Head Gasket Replacement Part 2: Cylinder Head Removal - On Demand Video
$12.99
On Demand Video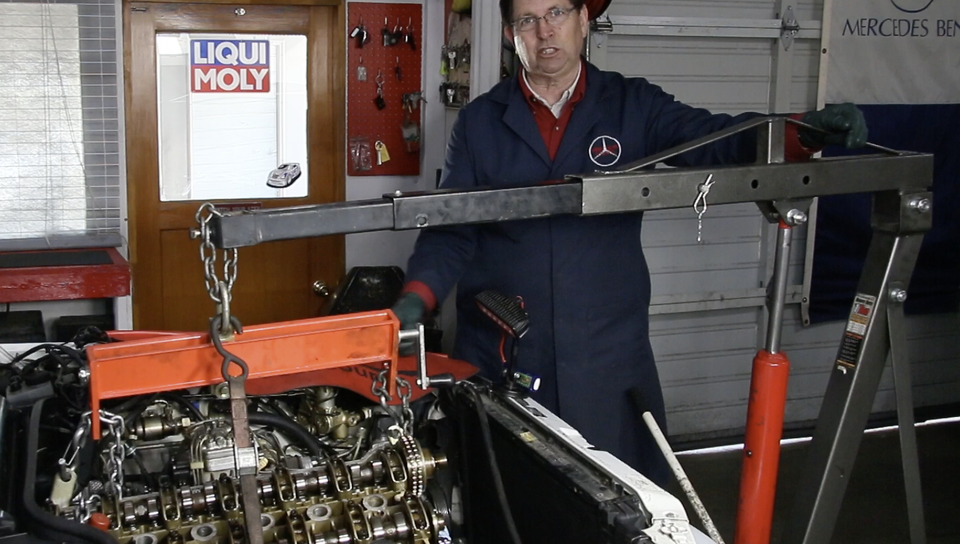 Product Details
Video Preview:
This video contains the following content:
Discussion of challenges regarding timing chain removal
What are the most important issues
Getting engine on TDC before head removal
Tools needed to position engine timing properly
Close ups of timing marks
Removing ignition cap and rotor and mounting bracket
Removing the front timing cover and related items
Details on correct way to remove front timing cover
Problems explained with the front case lower seal
Removing the chain tensioner with care
Marking the chain in relation to the sprockets
Getting the chain free of the sprockets
Tricks to removing the guide rail pin - critical
Proper way to remove the cylinder head bolts
Bolt sequence and tool needed
How to use a hoist to remove the head
Care in removing the head
How to balance the head for removal with the hoist
Double checking you carefully lift the head out of the engine bay
Discussion of what is covered in the next video
PLEASE NOTE: The removal of every single bolt and piece of hardware is not covered in every scene in this video. Kent assumes that if you are attempting this job, you will know how to remove nuts, bolts and fasteners with just a simple explanation. This is not a beginner mechanic job! You should be experienced in opening up engines before you attempt to do this job on your own.
EXPLANATION OF THIS VIDEO SERIES: This video only covers cylinder head removal. Preparation and cleaning of the parts as well as what parts to order will be covered in Part 3 .
The first link is an article by Steve Brotherton. You might google him to get more tips on the M104 engine. He is considered very knowledgable.
http://www.continentalimports.com/ser_ic100345.html

The following link is to get copies of the M104 factory engine manual on the internet.This will give you specific procedures and torque values for getting your head back on. There are also inexpensive CD manuals on eBay, etc. on the M104 engine. Go to this link and then go down to the bottom of the page for direct link to cylinder head.
http://www.w124performance.com/service/Index/104/01General.htm
Total Run Time: 24:06
---
How to view this on-demand video:
Once you complete the purchase of this video you will be able to view it immediately when you are logged in and on your personal account page (click on My Account). The video(s) will show up under My Video Manuals. The video is NOT downloadable to your computer or mobile device, but you will be able to view it anytime, from anywhere and from any device as long as you have internet access and you are logged in to your account at mercedessource.com.
Important note: This video manual may or may not include all the information you will need to troubleshoot and/or repair your specific problem/s. Please read the full description carefully to determine if this video is applicable to your year and model and contains the information you are looking for. If not, please refer back to our "Solutions Finder" and enter your chassis number and the specific problem you are having to see if we offer a solution.
Related Products:
---