Discussion of preparation, difficulty, potential problems and time it will take to do this job yourself
The primary purpose of this Part 1 introduction is to give you, the viewer an overview of some of the challenges you will be faced with if you decide to replace the head gasket yourself. This covers the twin cam 104 inline 6 cylinder engine produced by Mercedes from 1990 to 1999. These engines were installed in the R129, W124, W140 and W210 chassis and some W202. Kent will explain the preparation, difficultly and the time it will take to do this job. Watch the teaser video as Kent will explain in more detail.
M104 Gas Engine Head Gasket Replacement Part 1: Overview - On Demand Video
$7.99
On Demand Video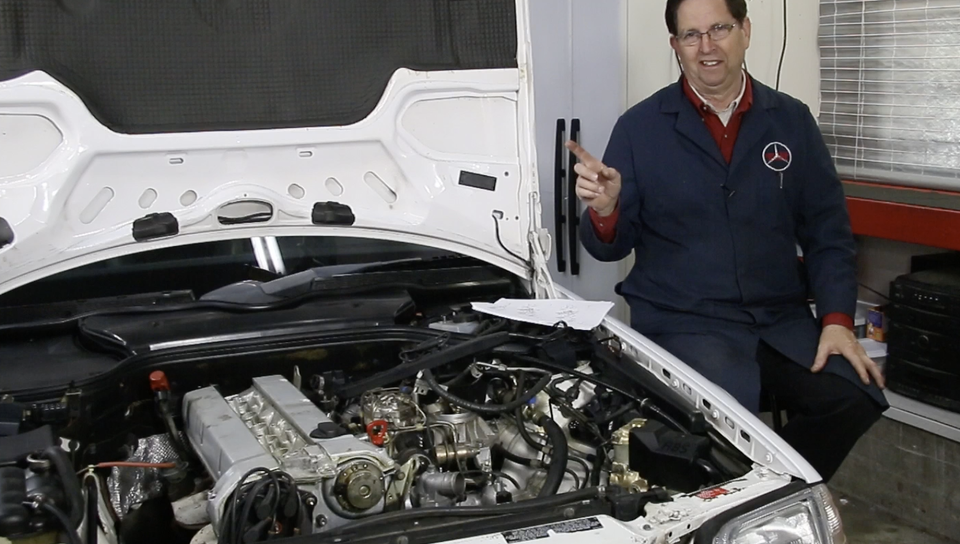 Product Details
Video Preview:
In general terms (no specifics) these are the topics covered:
Getting the factory manual information
Planning and timing
How the head will be removed
Importance of taking pictures
Importance of bagging and marking
Disconnecting things from the intake manifold
Use of an engine hoist
Why you would need to replace the head gasket
Common areas of oil leaks
The front timing cover seal leak explained
Close up of some key things you have to remove from the head
Cleanliness and care
Different types of M104 engines
Why Kent will not cover removing every bolt and fastener
Possible problems you may have with wiring harness.  1993 and newer models.
In Summary: This introductory video should give you enough of an overview to decide if you want to take on this job yourself. 
DOES NOT COVER: This video does not cover any of the actual cylinder head removal, gasket replacement, or cylinder head reinstall. Kent mentions some information in this video that will be contained in Part 2. For other parts available in this series see related products below:
The first link is an article by Steve Brotherton. You might google him to get more tips on the M104 engine. He is considered very knowledgable.
http://www.continentalimports.com/ser_ic100345.html

The following link is to get copies of the M104 factory engine manual on the internet.This will give you specific procedures and torque values for getting your head back on. There are also inexpensive CD manuals on eBay, etc. on the M104 engine. Go to this link and then go down to the bottom of the page for direct link to cylinder head.
http://www.w124performance.com/service/Index/104/01General.htm
Total Run Time: 24:06
---
How to view this on-demand video:
Once you complete the purchase of this video you will be able to view it immediately when you are logged in and on your personal account page (click on My Account). The video(s) will show up under My Video Manuals. The video is NOT downloadable to your computer or mobile device, but you will be able to view it anytime, from anywhere and from any device as long as you have internet access and you are logged in to your account at mercedessource.com.
Important note: This video manual may or may not include all the information you will need to troubleshoot and/or repair your specific problem/s. Please read the full description carefully to determine if this video is applicable to your year and model and contains the information you are looking for. If not, please refer back to our "Solutions Finder" and enter your chassis number and the specific problem you are having to see if we offer a solution.
Related Products:
---