If you want your head gasket repair to last these are the important steps you must follow
The head has been successfully removed. There is quite a bit of work that will need to be done before the head is ready to go back on. The head and the block will need to be cleaned and inspected and parts will need to be ordered. Other parts should be replaced while the head is off the engine. These are the subjects discussed in this third part in Kent's M104 head gasket video manual series.
M104 Gas Engine Head Gasket Replacement Part 3: Cleaning, Inspection & Parts to Order - On Demand Video
$14.99
On Demand Video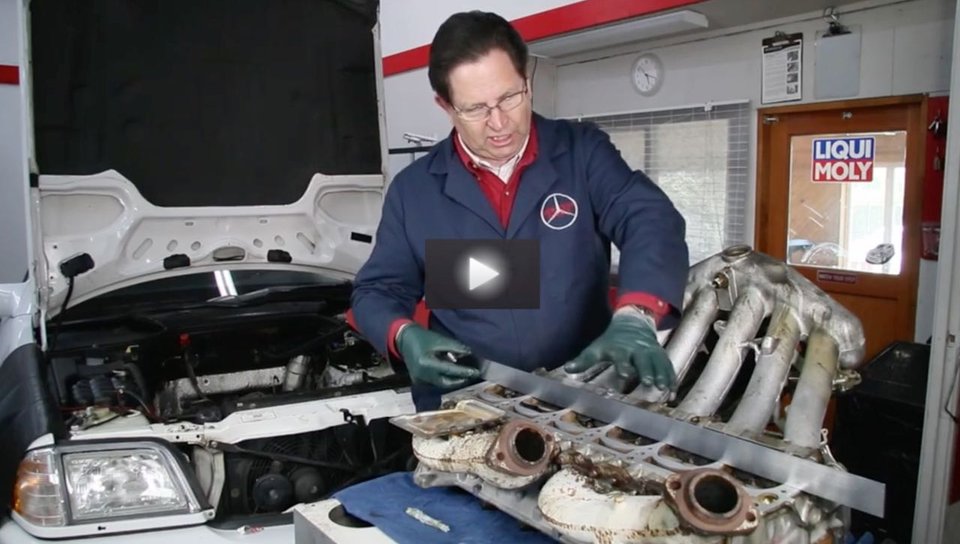 Product Details
The following specifics will be covered:
Review of removing the head with an engine hoist and tilter
Why the tilter is so important
Removing the old gasket and examining it for cause of leaks
Inspection of the block for damage
Cleaning top surface of the block
Cleaning and inspection cylinder head bolt threads in the block
Why it is so important to test the block threads
Inspection of the cylinder head for damage
Cleaning the gasket material of the head without damaging the aluminum
What to use to prevent scratching the surface
How to check for warpage of the block and head
Checking for leaks in other gaskets
Other parts to order in and around the manifold and the engine
Checking the cylinder head bolts for excessive stretch
When the bolts should be replaced
Where to order the parts
Other parts to consider replacing while the head is off
Discussion and overview of new parts received and why they are recommended
New updated head gasket shown up close
New updated manifold gaskets shown up close
Other work that should be done under the manifold while head is off
Good example why you want to replace the exhaust manifold gaskets
Checking and painting the exhaust manifolds
How to clean the head in a solvent bath
Consider testing / or replacing the fuel injectors and injector seals
Reference to next video in the series - installing the head.
Not covered in this video: Once again please keep in mind that Kent does not go over removing and replacing every single bolt, nut or clamp. It is assumed that if you are tackling an advanced DIY job like a head gasket replacement you will already know some of the "basics." This video focuses on the problems specific to the 104 engine, how to prevent trouble, and things you may not read about in the factory service manual.
November 2015 update: Part 4 is still in the planning phases and if completed will cover replacing the cylinder head back on the engine, proper torquing and resealing, and setting the the cam timing properly. These videos are very expensive to product and we have not received enough income from the sale of part 1 through part 3 to fund part 4 or part 5. At this point Kent can not "guarantee" continuation of this series so keep that in mind when purchasing part 1 to 3. Please sell Helpful information below:
The first link is an article by Steve Brotherton. You might google him to get more tips on the M104 engine. He is considered very knowledgable.
http://www.continentalimports.com/ser_ic100345.html

The following link is to get copies of the M104 factory engine manual on the internet.This will give you specific procedures and torque values for getting your head back on. There are also inexpensive CD manuals on eBay, etc. on the M104 engine. Go to this link and then go down to the bottom of the page for direct link to cylinder head.
http://www.w124performance.com/service/Index/104/01General.htm
Total Run Time of this Video:  37:58
---
How to view this on-demand video:
Once you complete the purchase of this video you will be able to view it immediately when you are logged in and on your personal account page (click on My Account). The video(s) will show up under My Video Manuals. The video is NOT downloadable to your computer or mobile device, but you will be able to view it anytime, from anywhere and from any device as long as you have internet access and you are logged in to your account at mercedessource.com.
Important note: This video manual may or may not include all the information you will need to troubleshoot and/or repair your specific problem/s. Please read the full description carefully to determine if this video is applicable to your year and model and contains the information you are looking for. If not, please refer back to our "Solutions Finder" and enter your chassis number and the specific problem you are having to see if we offer a solution.
Related Products:
---