Only fits 6 cylinder 1986 to 1987 300SDL, 300D and 300TD with GARRET TURBO!!!
This kit will allow you to replace the critical worn parts inside the early 603 U.S. made Garrett T3 turbochargers. This kit will not work if your engine has a KKK turbo made in Germany. The only way to tell which turbo you have is by visual inspection. Please see notes at the end of this product description to help you verify which turbo you have. Additional notes to KKK turbo owners are also included at the bottom of this page.
OM 603 1986 to 1987 Garrett T3 Turbocharger Basic Overhaul Kit
$118.95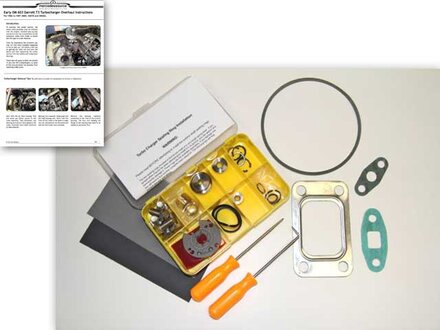 Product Details
This is the most complete early OM 603 DIY kit on the market today. Kit contents include the following:
New turbine shaft bushings and clips
Special pick tools for installing clips and rear sealing ring
New turbine shaft sealing rings
Special ring and instructions for installing sealing ring without deforming it
New UPGRADED performance 360-degree thrust washer assembly
New turbine shaft nut
Internal rubber housing sealing ring
New turbine housing bolts
Turbine housing to exhaust manifold gasket
Compressor housing edge gasket
Turbo center section oil inlet and outlet gaskets
Assembly lube
Red thread locker
gasket cement for small gasket
Very fine sandpaper to polish internal parts
Center section step-by-step overhaul instructions - written and photo illustrated by Kent Bergsma
PLEASE NOTE: Instructions for removing the turbo charger from the engine are NOT included. This is an intermediate to advanced DIY job. The complete turbo charger must be removed and taken apart on the bench. Removing procedures vary between the 124 and 126 chassis. Removal is not rocket science but can be time consuming due to the number of fasteners, hoses, etc that must be removed before the entire turbo charger assembly is removed from the engine compartment.
The included PDF center section overhaul manual is very detailed and includes step-by-step instructions with a picture showing each step of the procedure.
Here is what a complete turbo charger center section looks like - ready to go back on...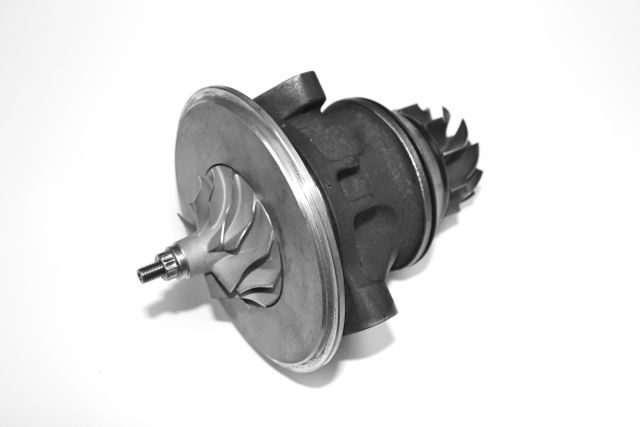 Turbo assembly being removed for a 1986 300SDL
How to determine which turbocharger you have:
The Garrett and KKK turbos may look similar at first glance, but if you look closely there are distinct differences. For a visual explanation be sure to watch Kent's video. None of the parts will interchange. 
PLEASE NOTE: Be sure to verify you have a Garrett turbocharger BEFORE ordering. Due to the amount of special handling involved if you order in error and wish to return the kit for refund a 15% percent (of the purchase price) fee will be charged.
Concerning the KKK turbocharger: We do not have kits or replacement parts for overhauling the German made KKK turbo. KKK was bought out by Borg Warner. You might begin your search for replacement parts by contacting them through their website. 
The Garrett turbo has a lever on the side of the turbine housing for the waste gate control.  If  your turbo does not have a rod and lever on the side it is NOT A GARRETT.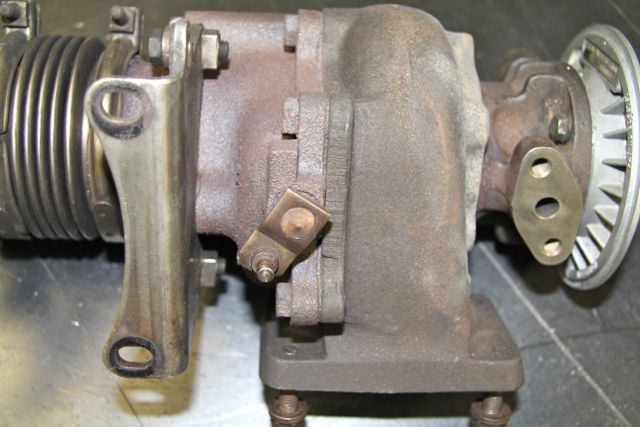 NOTE TO KKK TURBO OWNERS: We have decided not to carry repair parts or kits for the KKK turbo. The hassle to get the parts is just too great and the demand is too small. Here is some information you may find helpful in your own search for early 603 engine KKK turbo parts.
Turbo type:  K24
KKK part number: 5324-970-6700
KKK Rebuild kit part number: 5324-711-0020
Mercedes Benz Turbo part number: 0020 969 699
_______________________________________________________________________________
How to view the PDF digital instructions:
Once you complete the purchase of this product you will be able to download the digital instructions immediately when you are logged in and on your personal account page (click on My Account). Any PDFs will show up under My PDF Manuals. You will be allowed three downloads, so please save the file on your machine for backup.
_______________________________________________________________________________