This is one of the best safety upgrades you can make on your old Benz - Let there be light !!!
FITS THE FOLLOWING, all W110, W113, W114, W115 and W123 chassis with U.S. style headlights. Install this set of two 7 inch round Quality Hella headlights with replaceable quality H4 bulbs and finally get the lighting you need without high cost of European head lights / light. Easy install with no modification needed. DOT approved and legal for on road use.
Ponton 110 113 114 115 123 Round Hella H4 Headlight Upgrade Kit
$169.95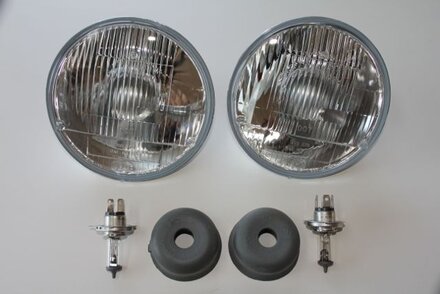 Product Details
Note: One of the best safety improvements you can make on an old Benz with US headlights is to replace the old sealed beam headlight bulbs with these Hella H4 headlights. The original sealed beams are marginal at best - especially if you are out on dark roads in heavy rain or fog. The H4s will increase intensity as well as beam width - making it easier to see the side of the road markers as well possible obstructions/dangers moving at you from the side (ie, deer, cyclists, pedestrians, etc).
Related Products:
---