If your shift lever is loose or rattles under the car this is what you need to fix it!
The R107 and C107 plastic shift bushings are very common parts that need to be replaced more often than not. Can you believe it is the exact same part that was used on all models for over 25 years! It is an inexpensive part that can cause big problems if it breaks out. It looks easy enough to install but it is not!!! Trying to install this oversized bushing in a lever hole up alongside the transmission can be a REAL test of your patience. It is not only the bushing but the clips that hold the rod on that can also drive you crazy... Kent went to work to solve this common problem. The tools he came up with will eliminate the common headaches when installing your new bushings and could easily cut the time to do it by more than half! As seen on Cherry. CLICK HERE to watch the full video series on Kent's R107 rolling restoration. Detailed instructions on how to do this job yourself can be viewed in the free video below. Just click on the arrow to watch the full 12-minute instructional video.
R107 Damaged Shift Lever Bushing Repair Kit
$67.95
SKU:
TRANS-107SHIFTBUSHKIT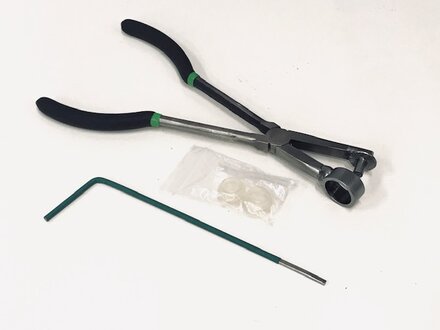 Product Details
This complete kit includes the following:
1. Shift rod clip tool
2. Bushing removal and installation tool
3. 2 new nylon bushings - (comes with a pouch of synthetic grease)   
4. VIDEO instructions viewed right here
White bushing measures: ( In the groove) 15.85 mm OD, 9.82 mm ID, width 13.8 mm
Here is what happens to these bushings when they get old and tired... They will just crumble and fall out of the holes in the metal shift levers.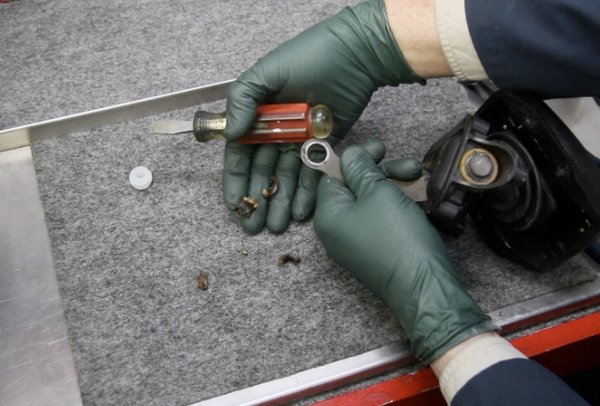 Clips are available for purchase separately as well as the bushings. To learn more about each one or to purchase individually please click on the appropriate link below:
BONUS: We are sending a small packet of special grease along with your new bushings at no extra charge. Just wipe a small film of grease on the bushing before installation and you will be amazed at how much easier it will snap into the hole. 
Related Products:
---